We Updated our ESS (Energy Storage System) Vendor Selection user interface in ETB Developer
by Brooke Morales on Feb 07, 2022
Acumen EMS control software
*Brooke Morales is the product manager for ETB Developer. She has been with Energy Toolbase for nearly six years and previously worked on our data team and software engineering team. Brooke is based in our Stuart, Florida office.
We recently updated the ESS vendor selection UI (user interface) in ETB Developer. The motivation behind this change was to make the UI and user experience clearer regarding which software EMS controls are integrated with which hardware ESS vendors.
We are now categorizing the selection of EMS controls into three buckets: (i) User-Defined EMS Controls, (ii) Energy Toolbase Acumen EMS™ Controls, (iii) Third Party EMS Controls. We will continue to require ETB Developer users to apply to view and access ESS Solutions Providers, which are greyed out, listed under 'Additional Systems'.
Our New UI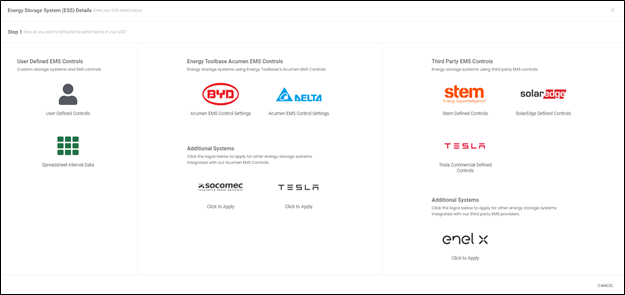 ESS dispatch functionality. The functionality of how we run our ESS simulations (either user-defined, Acumen EMS, or third-party EMS controls) does not change in this release. The only change we are making is in the layout and organization of the ESS vendor selection page. If you would like to learn more about our Acumen EMS controls or any of the third-party EMS provider controls, users can now click the 'Have Questions? Speak to a specialist' hyperlink to schedule a meeting with your account manager.

Two Tesla logos. Users may notice a new Tesla logo under the Acumen EMS controls column, which was launched today. To clarify why there are now two Tesla logos. The Tesla logo and integration under the third-party EMS controls column utilizes Tesla's Opticaster EMS controls software. Whereas the Tesla logo and integration under the Acumen EMS controls column, utilizes Energy Toolbase's Acumen EMS controls software.