ETB's Battery & Energy Storage System – Supply Chain and Pricing Report (Q2 2022)
by Brandon Maze on Apr 27, 2022
This is our inaugural Battery & Energy Storage System – Supply Chain and Pricing Report, which we intend to publish on a quarterly basis going forward. Our sales and support teams field an increasing number of inquiries related to all things battery energy storage system (BESS) supply. Given the importance that BESS supply chain issues have on pricing and lead times, we felt compelled to publish a report that summarizes key market drivers and trends. The data and insights in this report draw from reputable industry trade press outlets, research firms, and discussions we have directly with BESS vendors.
Battery and energy storage global supply chain disruptions hit an all-time high in the first quarter of 2022. This has been caused by a confluence of factors, including ongoing supply chain disruptions stemming from COVID, soaring raw material prices, strong continued EV demand, record-high inflation, and increased shipping and transportation costs. This perfect storm of related issues has resulted in longer lead times and upward price movements of up to 20 – 30% in the cost of energy storage systems. We unpack each of these in more detail below.
COVID Disruptions
Lockdowns to mitigate the spread of COVID-19 continued across multiple Chinese provinces into April. Though major air and ocean ports remain open in China, labor shortages are slowing operations, availability of goods has dropped since manufacturing and warehouses are closed, and trucking is limited due to quarantine rules and travel restrictions.
Raw Materials
According to a report conducted by Lawrence Berkeley National Laboratory, prices for raw materials that make up Lithium-Ion-based BESS, such as lithium, nickel, and cobalt make up between 60 – 80% of total battery cell costs[ii]. These raw material prices have seen significant increases since the beginning of 2021 due to COVID-related manufacturing disruptions, strong EV demand, increasing energy input costs, high supply concentration, and geopolitical disruptions have been the primary drivers of recent raw material price volatility.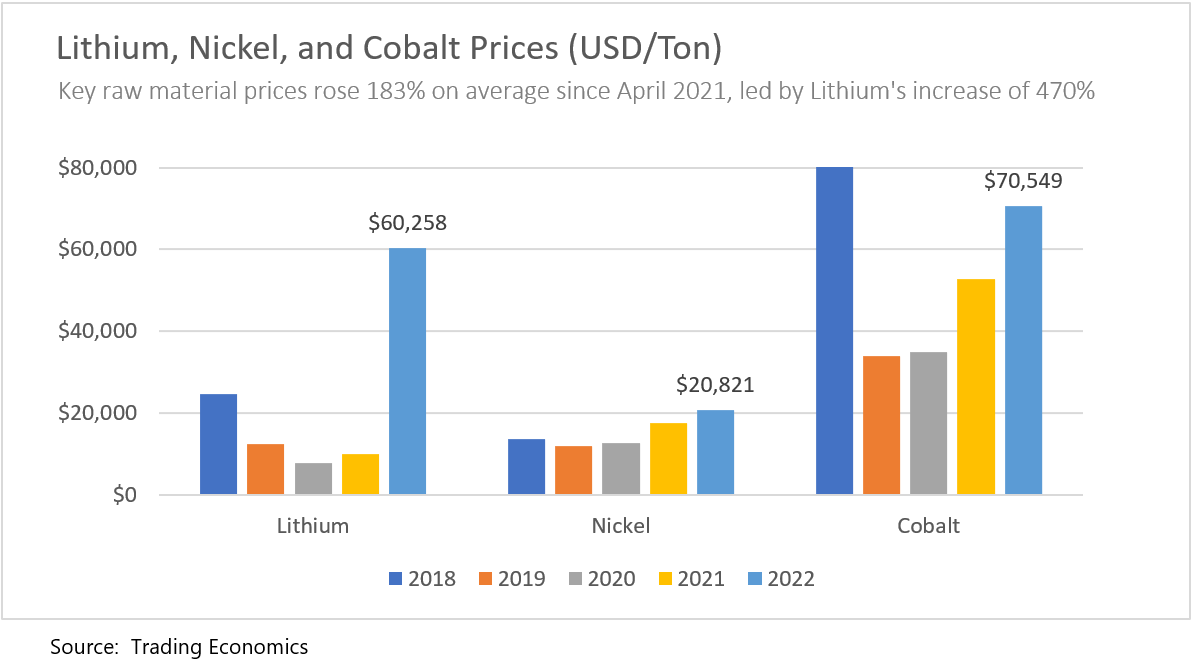 Electric Vehicles
Higher oil prices and changing attitudes towards the ecological impact of fossil fuels are helping to drive unprecedented growth in demand for electric vehicles around the globe. The EV industry, which consumes approximately 75% of global battery demand on average, is moving from its traditional NMC offerings to LFP chemistries reports research and analysis provider Statista[vi].
Inflation
The first quarter of 2022 saw historical increases in prices paid by both consumers and producers. While average earnings continued to lag the broader inflationary curve in general, persistent tightness in the labor market is forcing employers to improve compensation packages to remain competitive in attracting and retaining top talent. To counteract rapidly mounting inflationary pressures, the US Federal Reserve announced measures to raise real interest rates and reduce the excess supply of money in circulation by $60 billion per month.
Shipping and Transportation
Shipping costs have rapidly increased throughout the COVID pandemic. The New York Times reported in March that the price to transport a container from China to the West Coast of the United States costs 12 times as much as it did two years ago, while the time it takes a container to make that journey has nearly doubled[xiii]. Prices have risen sharply across the entire freight sector, including in parcel delivery, trucking, rail, and warehousing, in addition to ocean shipping. Bloomberg reported year-over-year changes of domestic transport rising between 10 to 30%, the largest increases on record[xiv].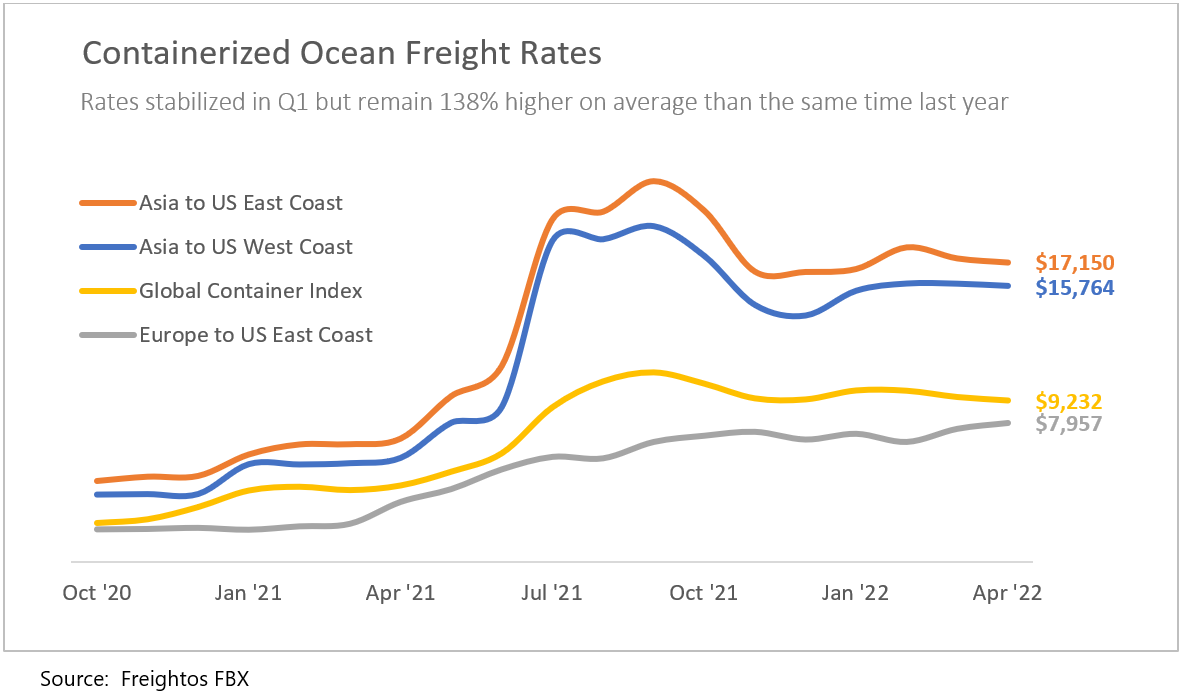 How is ETB adapting to this environment?

The perfect storm of inter-related issues summarized above has led to a considerable tightening throughout the supply chain, resulting in longer lead times and upward price movements in the cost of energy storage systems we are quoting at Energy Toolbase. The challenging environment has forced ETB, along with BESS suppliers, integrators, storage project developers, and potential host customers to change their expectations. Energy Toolbase is committed to communicating clearly and promptly with our customers on changing prices and ESS lead times. Our team is in regular dialogue with our BESS vendor partners, to get as much foresight as possible on upcoming changes. This new quarterly report is meant to provide further transparency into why prices and lead times are changing, which our sales and support teams field an increasing number of inquiries regarding. For developers modeling storage projects on the ETB Developer platform, we provide a hyperlink to our current price sheets for all our publicly listed Acumen EMS integrated hardware partners. Additionally, when issuing formal ESS price quotes, we explicitly state the validity and expiration period of the quote. Talk to your Account Manager for more details on our quoting terms and durations.
"The positive news that we can report at Energy Toolbase is that we are continuing to see record ESS activity and demand, measured by ESS proposals generated on the ETB Developer platform, and closed ESS purchase orders that utilize our Acumen EMS controls software," said our VP of Business Development, Adam Gerza. "The number of ESS proposals created on our sales platform utilizing our Acumen controls was up 39% in Q1 2022 vs. Q1 2021, while the number of Acumen controlled ESS projects sold increased 138% during the same period. Even in this rising price, long lead time environment, behind-the-meter, non-residential storage projects continue to pencil and make economic sense in certain markets."
Brandon Maze is the Supply Chain Manager at Energy Toolbase. He previously worked at Amazon and Chevron. He is based in Waco, Texas.
Endnotes