Last Call for Commercial Storage SGIP Incentives: SCE's Budget is Exhausted, and the End is in Sight for PG&E and SDG&E
by Erin Christensen on Jun 08, 2022
UPDATE: As of June 6, 2022, the SDG&E territory has entered the last step of the Large-Scale Storage SGIP budget category. The Step 4 incentive rate for SDG&E customers is $0.30/Wh. The total available funds remaining for large-scale storage projects is roughly $11 million in the SDG&E territory and $14 million in the PG&E territory.
It is now in effect that large-scale storage projects claiming the ITC are no longer subjected to a differential of the incentive rate if the equipment was purchased after 2021. Projects claiming the ITC that prove to have purchased equipment after December 31, 2021 will receive the same incentive rate as non-ITC participants.
Summary
The Large-Scale Storage budget in the SCE territory was fully reserved earlier this month. SCE is the first of the 3 IOU territories to deplete its Large-Scale category budget.
As of late March, PG&E currently has roughly $16 million in funds remaining, while SDG&E has $15 million remaining. We predict all Large-Scale SGIP incentives could be reserved by end of this year.
The CPUC's decision in December of 2021 to reallocate $67 million of SGIP Storage incentives to other budget categories that had waitlists accelerated the end of the general market Large-Scale Storage budget.
California's Self-Generation Incentive Program (SGIP), the largest behind-the-meter (BTM) storage incentive program in the country, provides compensation for the installation of qualifying renewable energy technologies. Originally launched in 2001, the program is designed to encourage the deployment of distributed generation (DG) systems to reduce Greenhouse Gas (GHG) emissions and increase electric grid reliability and demand reduction. In early 2020 the solar and storage industry celebrated whenthe SGIP program was relaunched with a replenished budget of $675 million for energy storage projects, as directed by Senate Bill, SB 700.
When SGIP was relaunched in 2020 the CPUC issued a decision that earmarked storage funds into 5 separate categories: Small Residential (for systems under 10 kW), Large Scale (for systems > 10 kW), Equity Resiliency, Equity Residential, and Equity Non-Residential. ETB has previously detailed the program breakdown:A Definitive Guide to the Updated SGIP Incentive Program (2020 Edition). At the time the funding was meant to reextend the SGIP program for 5 years for projects located in the service territories of Pacific Gas and Electric (PG&E), Southern California Edison (SCE), Southern California Gas Company (SoCalGas), or San Diego Gas & Electric (SDG&E). But now a little more than 2 years into the program relaunch, several categories of funds have run out and moved into waitlist status. Here's a table showing the original category allocations from SB 700 funds along with carry-over incentives: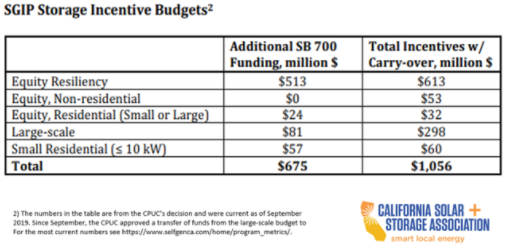 The first budget categories to exhaust funds were the highly lucrative Equity Resiliency, specifically for low-income customers in high-risk fire districts, and Non-Residential Storage Equity, for non-residential customers located in low-income or disadvantaged communities. These budget categories offered storage incentives at an incredibly lucrative rate of $1,000/kWh and $850/kWh respectively, which is why the funds were reserved quickly and long waitlists of projects ensued.
Program Metrics, including current Step Status and remaining Available Funds for each SGIP budget category, can be viewed on theSGIP Incentive Step Tracker page. Here is the Large-Scale Storage category as of 3/30/2022: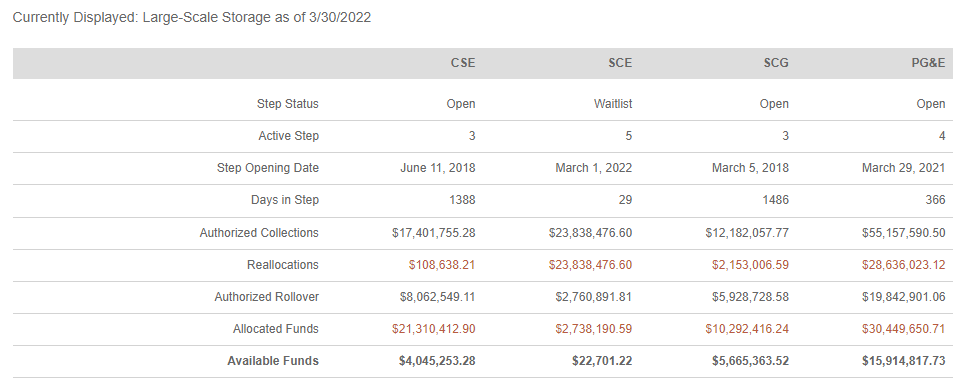 CPUC reallocates $67m of SGIP storage funds
When the SGIP program was relaunched in 2020, the Large-Scale category for ESS projects was originally divided into five steps. However, that abruptly changed in December of 2021 when the CPUC approved Decision 21-12-031, which required SGIP Program Administrators (PA's) to immediately reallocate $67 million of unclaimed SGIP dollars to other budget categories "first to energy storage budgets with waitlisted applications as of the date of adoption of this decision, with priority given to waitlisted Equity Resiliency budget, Equity and then General Market applications; (2) after all waitlisted applications have been served, the decision allocates remaining funds, if any, to Equity Resiliency budgets." This ruling resulted in a significant drawdown of funds from the Large-Scale budget, which had the largest amount of remaining unclaimed incentive dollars out of the SGIP budget categories. This effectively canceled Step 5 from the Commercial budget in each IOU territory altogether and reallocated those funds.
SCE's large-scale storage budget is now depleted
In December of 2021 SCE opened the Step 4 window for their Large-Scale Storage budget category. However, as a result of the CPUC's reallocation decision, SCE's step 4 budget only amounted to $1.8 million dollars, which was attrition dollars from previously unclaimed general market commercial projects being rolled over. Those funds were quickly reserved, which subsequently led to SCE opening their Step 5 Large-Scale category on March 1, 2022. That step amounted to roughly $2.8 million dollars, which again were rollover funds, previously unclaimed from past reservations. When SCE's Step 5 window opened, reservation requests quickly exceeded funding which triggered a lottery process, which has resulted in the SCE Program Metrics now showing step status as "Waitlist". In the unlikely event that available funds remain after all wait-listed projects have allocated funding, new applications will be accepted. The bottom line is that SCE's general market commercial budget is now fully depleted.
How much longer will funds last in PG&E and SDG&E?
As of late March, there is roughly $16 million of Large-Scale Storage funds remainingin the PG&E territory. These funds are in Step 4, which is the last full step in PG&E. Our expectation is that like SCE, there will be a small Step 5 consisting of unused rollover funds. Meanwhile,in the SDG&E territory, there are $4 million of Available Funds left in Step 3, with Step 4 showing a Total Budget of another $11 million, so $15 million in total. PG&E's and SDG&E's remaining budgets are shown below: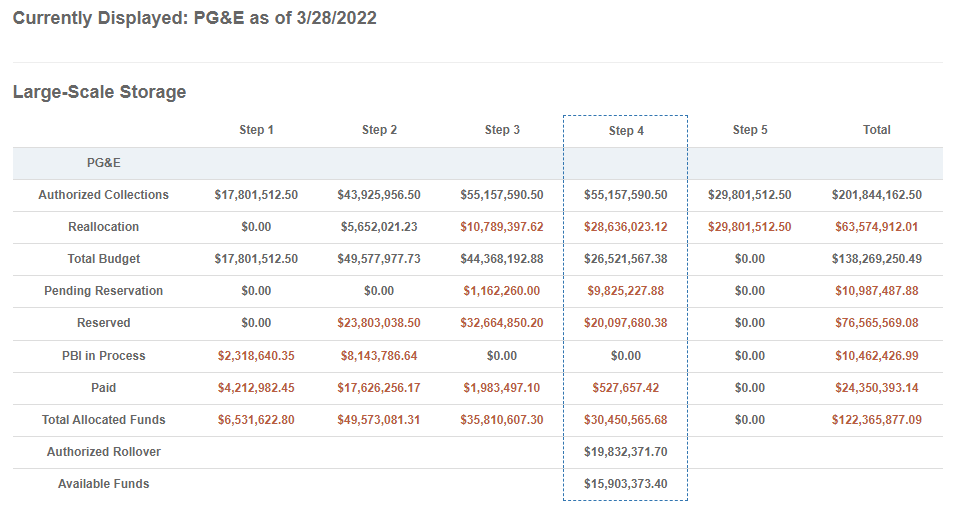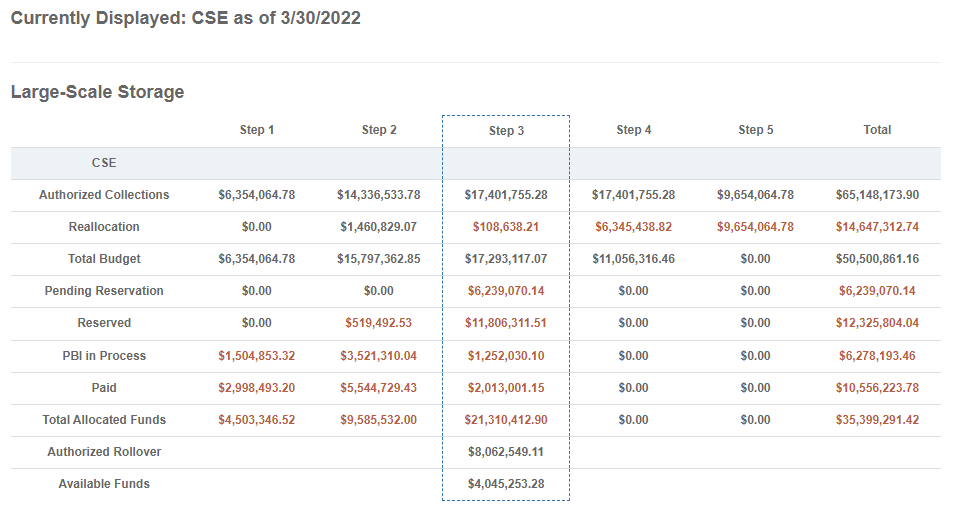 It is difficult to predict when the Large-Scale budgets in PG&E and SDG&E will get exhausted. It's worth noting that when SCE recently got down to only $2.8 million of remaining funds, reservations rapidly accelerated, leading to the lottery situation. Additionally, our team recently witnessed roughly $2 million in PG&E's Large-Scale reservations come through in a single week from monitoring theProgram Metrics page. As more storage project developers and their end customers realize that the end is near, and this could be the last opportunity to claim SGIP storage incentive dollars, we expect reservations to accelerate. It's possible that all remaining Large-Scale Storage category SGIP funds are reserved by the end of 2022, and it's almost a certainty that all funds will be spoken for at some point in 2023.
We strongly encourage developers with commercial opportunities in the PG&E and SDG&E territory to communicate these program dynamics with their potential customers and complete the paperwork required to lock up their reservations sooner rather than later.
Will SGIP budgets get re-upped soon?
"The short answer is no", according to our VP of business development Adam Gerza, who closely tracks regulatory and legislative matters in California. Replenishing the SGIP budget would require a bill to pass the legislature and get signed by the Governor, which is usually a lengthy process. While CALSSA and other storage industry advocates are contemplating introducing legislation to create new energy storage incentives, possibly proposing to re-up the SGIP program, that process would likely take considerable time to play out. For context, when SB 700 was passed in 2018 it required two legislative cycles to get passed and signed into law. Therefore, we are advising developers for the time being to assume there will be no replenishing of the SGIP budget anytime soon. This is yet another reason to communicate with customers that the end is in sight on the commercial storage SGIP budgets and to close projects and reserve reservations now or risk missing out."
Learn more about the key policy issues in the California solar + energy storage market and access reports on how they affect the economics of projectshere