Introducing Energy Toolbase's Sapphire Partner Program
by Lindsey Paulk on Oct 19, 2022
ETB Sapphire Partner Program
Energy Toolbase's new Sapphire Partner Program provides exclusive discounts and resources for Acumen EMS Developers
We are announcing the launch of our newETB Sapphire Partner Program, which provides repeat Acumen EMS™ customers with exclusive benefits and resources to further support them in deploying more Acumen-controlled projects. Like an airline frequent flyer program, we want to reward our loyal customers and incentivize them to do more business with Energy Toolbase. To qualify for the Sapphire Program, customers must complete at least 4 Acumen EMS purchase orders OR purchase a minimum of $5M in Acumen EMS-controlled ESS in one calendar year.
Energy Toolbase'sAcumen EMS controls software is now deployed or contracted in nearly 100 sites across the United States, Canada, Mexico, and Costa Rica. Our team works closely with many leading project developers, Fortune 500 corporations, asset owners, and financial institutions to model, deploy, and monitor solar + storage projects using our Acumen EMS™ controls software. We take great pride in supporting all of our customers in finding the best solution for their specific projects. Our vision with the Sapphire Program is to provide an even higher, elite level of service and support to assist our developer partners profitably deploying and commissioning more energy storage assets.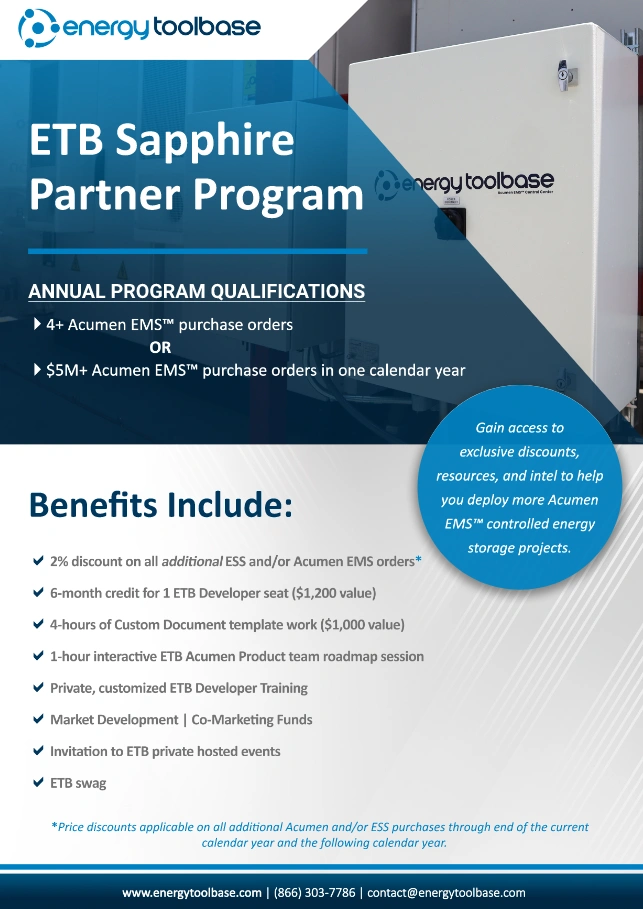 Key Features & Benefits of the ETB Sapphire Partner Program
2% discount on all

additional

ESS and/or Acumen EMS

TM

orders*

6-month credit for 1 ETB Developer seat ($1,200 value)

4 hours of Custom Document Template work ($1,000 value)

1-hour interactive ETB Product Team Roadmap session

Private customized ETB Developer training

Market development | Co-marketing funds

Invitation to private ETB-hosted events

ETB swag
*Price discounts are applicable on all additional Acumen EMS™ and/or ESS purchases through the end of the current calendar year and the following calendar year.
Am I eligible for the ETB Sapphire Partner Program?
Any developer that meets the criteria listed above can qualify for the ETB Sapphire Program. If you have questions regarding the program or your qualification status, get in touch with your account manager orschedule a call with our team of storage experts.