February 2023 Utility Rates Newsletter
by Sarah Wood on Feb 28, 2023
IMPORTANT MONTHLY UPDATES AND ANNOUNCEMENTS
In this month's newsletter, we dive into San Diego Gas & Electric's 1/1/2023 rate update, highlight a new residential SDG&E rate, and cover rate updates for Sacramento Municipal Utility District and several Oregon utilities. We also detail the addition of new NEM 3.0 rate versions in California's IOUs and CCAs.
San Diego Gas & Electric Update and New Residential Rate
San Diego Gas & Electric (SDG&E) began the new year with an update to its rate schedules. SDG&E originally posted Advice Letter (AL) 4103-E on 11/15/2022, which forecasted its total system average electric rates increasing by 20.8% for 2023. However, several CCAs protested this forecast, asserting that SDG&E failed to revise the balances for the Portfolio Allocation Balancing Account and Energy Resource Recovery Account as they are required to, according to CPUC's Resolution E-5217. Therefore, SDG&E submitted a supplemental AL that included these rebalances. AL 4129-E includes the consolidated rate changes from these previous ALs; this new AL shows an increase of 25% to the total system average electric rates. The total rate change sheet from the AL can be seen below:
SDG&E also introduced a new time-of-use (TOU) residential rate schedule called 'Schedule: TOU ELEC' for customers with electric vehicles, energy storage, or electric heat pumps. This rate schedule is available voluntarily and is limited to a customer cap of 10,000. Two main differences exist between the new TOU-ELEC rate and the standard TOU-DR rate; TOU-ELEC has a monthly customer charge of $16 and does not include the baseline adjustment credit found in TOU-DR. Despite these differences, TOU-ELEC shows significantly lower $/kWh total rates for the off-peak and super off-peak hours during summer as well as all TOU hours during winter, as seen in the comparison below:

The TOU-ELEC rate is now available on the platform to ETB users!
Portland General Electric and Pacific Power Updates
The Public Utility Commission of Oregon approved several rate changes effective January 1, 2023, for Portland General Electric. On average, residential customers will see an increase of 10.6%, and non-residential customers will see an increase of 11.9%. Pacific Power – OR implemented a similar increase to their rates that will result in a bill increase of approximately 11.1% for their 646,000 customers.

Because Oregon is a deregulated energy market, customers can shop around for different energy suppliers to service them in addition to the distribution utility company like Portland General or Pacific Power. ETB can parse out and separate supply-related charges from distribution and transmission charges: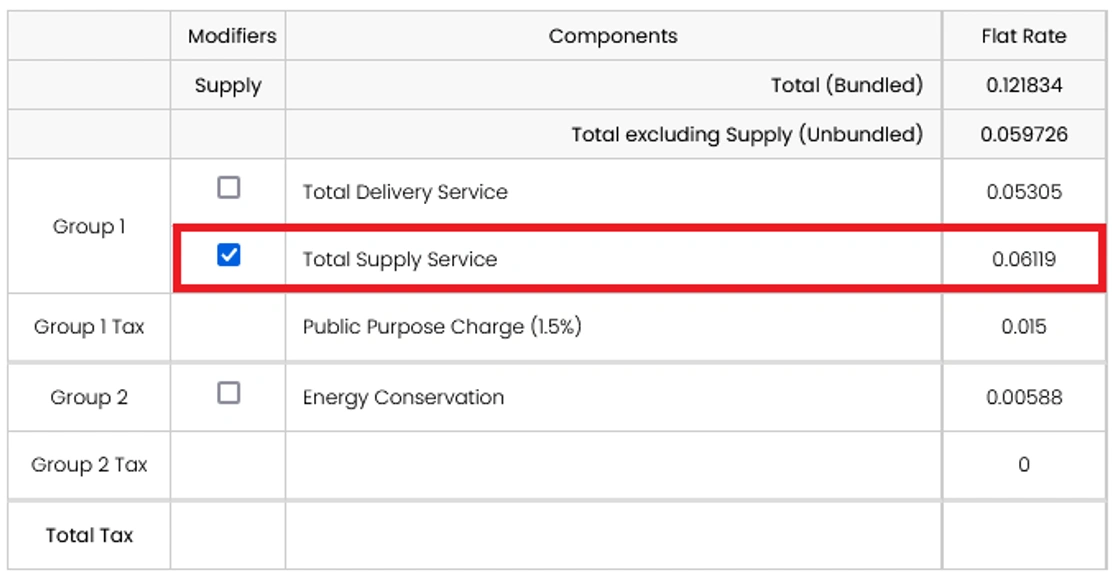 This feature allows users to take advantage of the new 'Retail Supply Details' feature found in the Energy Use Profile for rates of utilities in deregulated markets:

The supply charge entered in the above field will overwrite items in the rate marked with the supply modifier. This allows users who do not receive full electric service from Oregon utilities to create a customer-specific rate easily.
Sacramento Municipal Utility District Update
Sacramento Municipal Utility District (SMUD) implemented a planned 2% increase to its rates for January 2023. According to SMUD, the rate changes allow them to operate as efficiently as possible by providing more opportunities for wildfire prevention and mitigation, infrastructure improvements to maintain high reliability, clean energy compliance requirements, and increased operating costs, including materials and labor costs. While exact amounts vary depending on a customer's energy consumption, SMUD projects that the average residential customer will see an increase of about $2.57 per month in 2023.

Energy Toolbase now offers SMUD rates with the export compensation rate (ECR) found in the 'Solar and Storage Rate' tariff included at the rate level:

Including this value within the rate and marking it as an export changes the Net Billing configuration from user-defined exports to rate schedule-defined exports. This change allows our utility rates team to track any future changes to the ECR and update accordingly, which means our users can always expect their analyses to include the most recent export rate. The export compensation rate is currently set to $0.0740 per kWh as of March 1, 2022. SMUD plans to update this figure every four years beginning in 2026.
Utility Rates February 2023 FAQ:
Is the most recent rate automatically applied to an Energy Use Profile?
​​​​​Our rates team regularly updates thousands of rates across hundreds of utilities, which means you will most likely see multiple effective dates for a specific rate. Suppose our utility rates team updates a rate with a newer effective date than one you previously worked with in an Energy Use Profile. In that case, ETB will not automatically update your Energy Use Profile with the most recent effective date. The newer effective date can be selected in your Energy Use Profile. For example, the following Energy Use Profile utilized rate 'G-3' with an effective date of 8/1/2022 for National Grid – MA; however, there is a newer effective date (1/1/2023) available that this user can select to get the most accurate analysis: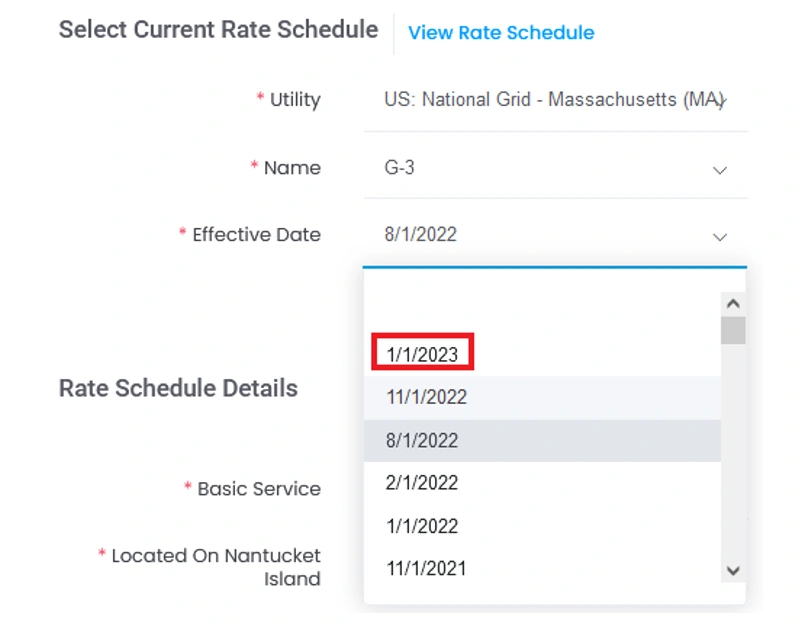 This is not automated because we want to avoid overriding calculations that you may have already presented to a client when you used what is now considered the older rate. If you are going back to model previous projects or have submitted a request for our team to update a rate, double-check the effective dates in your Energy Use Profile to ensure you're working with the most recent information!
Did You Know? - ETB Now Includes NEM 3.0 Versions of California IOUs and CCAs
Following the final NEM 3.0 revision, our rates team has created new utilities for the big IOUs as well as several CCAs that model the new NEM 3.0 structure. These rates include the ACC compensation values as hourly exports within each rate. You can find the following utilities now available in our database:
Pacific Gas & Electric NEM 3.0

San Diego Gas & Electric NEM 3.0

Southern California Edison NEM 3.0

Sonoma Clean Power NEM 3.0

East Bay Community Energy NEM 3.0

Marin Clean Energy NEM 3.0

Clean Power Alliance NEM 3.0

Central Coast Community Energy NEM 3.0

San Diego Community Power NEM 3.0

Pioneer Community Energy NEM 3.0

Santa Barbara Clean Energy NEM 3.0

San Jose Clean Energy NEM 3.0

Silicon Valley Clean Energy NEM 3.0
We will continue to add utilities and rates as requested by users!