Energy Toolbase Launches New Software Update that Enables Users to Model Energy Storage Projects
by Monette Meier on Sep 05, 2017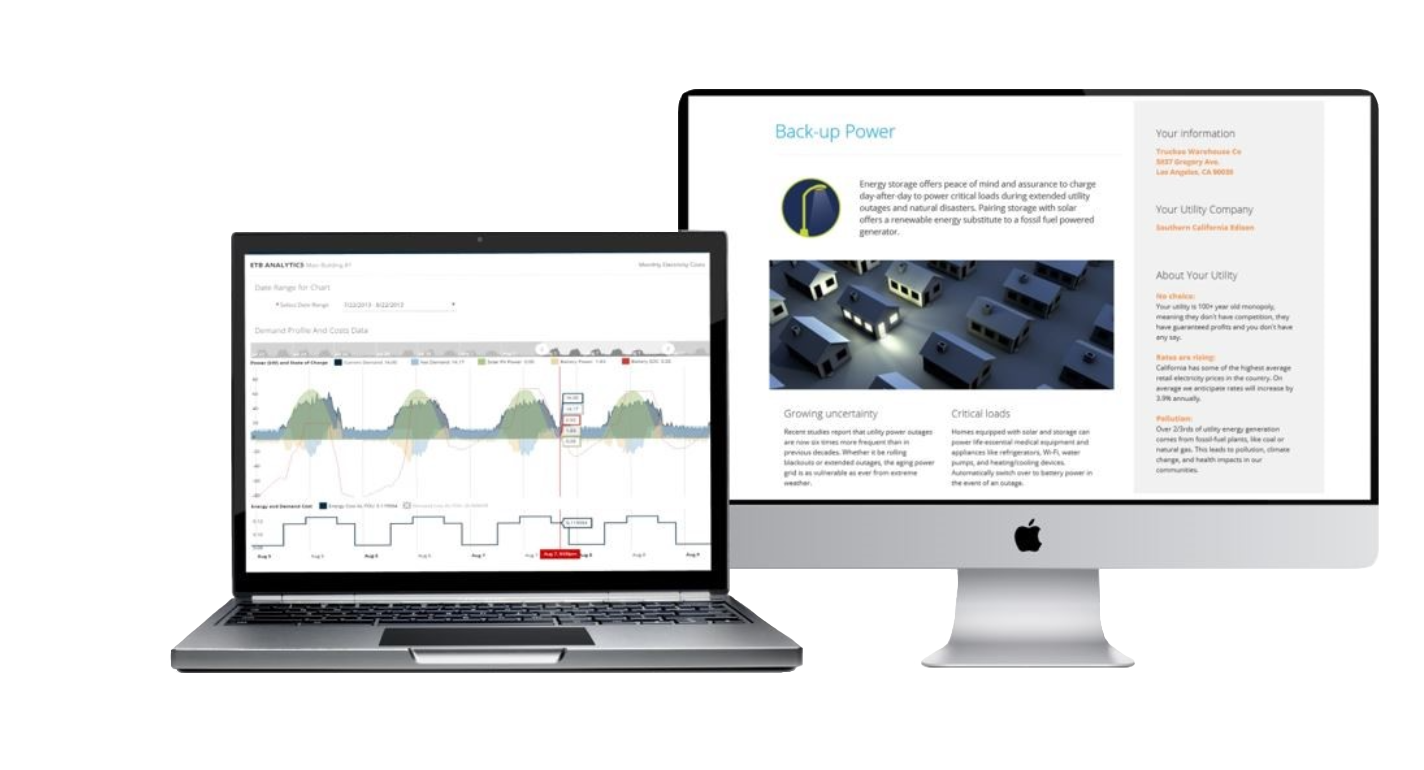 The product vision for the new release is to give users the ability to model, optimize, and propose the economics of any type of behind-the-meter energy storage project.

LOS ANGELES, Calif. (September 5, 2017) – Energy Toolbase, a software platform for modeling the economics of solar and energy storage projects, recently launched a major software update that revolutionizes the platform's energy storage modeling capabilities. The new release enables users to transparently quantify the dollar savings for any type of behind-the-meter (BTM) energy storage project. This empowers developers in both the residential and commercial market to identify the best storage use-cases, more efficiently focus their development resources, and close deals.
Energy Toolbase's new release was designed to take an objective, third-party approach to quantifying the savings for different types of energy storage system providers. Below is a summary of the key project variables users can define in Energy Toolbase's new release, which dictate how much a specific BTM storage project will save:
Distributed Energy Resources (DER) combinations: modeling a standalone storage project, pairing storage with solar PV, or retrofitting storage onto a meter that already has PV.
Storage system hardware: the electrical characteristics of the battery and inverter, such as kW power, kWh energy capacity, max depth of discharge, and charge/discharge efficiency.
Software control strategies: the value stream(s) the software is targeting: "peak-demand shaving," "Time-of-use (TOU) arbitrage," or "self-consumption."
Software controls restrictions: constraints on how the controls software operates, such as requiring the battery to charge from PV or preventing battery exports to the grid.
Customer load profile: the amount of power a customer uses at different times throughout the day and year.
Utility rate assumptions: demand charges, TOU price differentials, rate switch scenarios, and Net Energy Metering (NEM) 2.0 assumptions.
The BTM energy storage market is forecasted to scale up rapidly in the next few years. According to the "U.S. Energy Storage Monitor: Q1 2017" report published by GTM Research and the Energy Storage Association, the BTM segment will grow from 44 MW's of deployments in 2016 to 1,352 MW's of deployments in 2022. This market ramp-up is driving demand for trustworthy software applications for energy storage sales and savings analysis.
"We're seeing very strong demand from our user base for the ability to quantify and propose the economics of energy storage projects," said John Gurski, Energy Toolbase Founder and CEO. "The storage manufacturers and developers that we're talking with want third-party savings analysis tools they can trust. That's exactly what we've designed and built."
Since launching in 2014, Energy Toolbase has grown to become a leader in third-party savings analysis of distributed energy projects. More than one thousand distributed energy organizations across the country now use the Energy Toolbase software-as-a-service (SaaS) platform to perform utility rate and avoided cost analyses for their solar and energy storage projects.

About Energy Toolbase:
Energy Toolbase is an industry leading software platform for analyzing and proposing the economics of solar PV and energy storage projects. Hundreds of the leading renewable energy developers nationwide use our software-as-a-service product to accurately, objectively and transparently analyze their projects and create customer facing proposals. For more information or to request a free trial, visit: www.energytoolbase.com
Media contact:
Tracy Fosterling
Energy Toolbase
tracy.fosterling[at]energytoolbase[dot]com
866-303-7786 ext. 703