ETB Monitor: Our Newly Launched Software Platform for Monitoring the Performance and Savings of Solar + Storage Projects
by Matt Moyer on Oct 27, 2021
storage monitoring software
*Matt Moyer is the Product Manager of the ETB Monitor product. Matt is based in our Stuart, Florida office and has been with Energy Toolbase since 2018.
We are excited to announce the launch of ETB Monitor, our asset monitoring platform that provides real-time insights into the performance and savings of solar + storage systems operating in the field. Our ETB Monitor product is effectively the UI layer of our Acumen EMS™ controls software. It was designed to provide complete transparency to project developers and asset owners, for projects that deploy our Acumen EMS™ controls software in the field. An ETB Monitor license comes standard with the purchase of an Acumen EMS™ controlled energy storage system (ESS).
ETB Monitor is the third leg of our "Model, Control, Monitor" product lineup, which provides a cohesive suite of software tools for project developers to deploy solar + storage projects more efficiently. Since 2014, our ETB Developer product has specialized in performing accurate, objective, and transparent utility rates and avoided cost analysis of solar + storage projects. That software platform is widely regarded as the gold standard "pre-install" sales and analysis tool for commercial and industrial (C&I) developers within the industry. Our ETB Monitor product leverages our company's same deep domain expertise in utility rate and net energy metering frameworks into a "post-install" world. Furthermore, our ETB Monitor platform features the same look and feel interface as our ETB Developer modeling platform, which is now trusted by nearly 1,500 distributed energy organizations worldwide.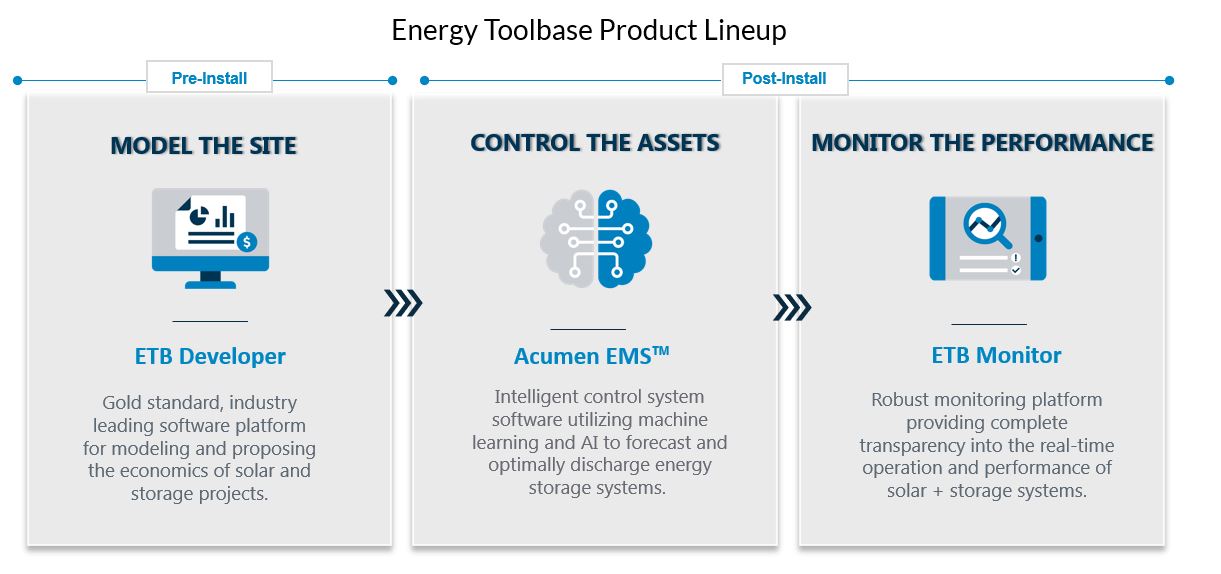 Our engineering team has been in development on this ETB Monitor release for several quarters. This replaces our legacy Energy DataHub monitoring product. Our product and engineering teams will continue iterating and making improvements to the ETB Monitor platform going forward; below is a summary of the key features of this v1.0 release.
Site Performance Interface
Provides an interactive view of the live flow of power occurring onsite between the solar PV and/or the Energy Storage System (ESS), as well as site weather information. Visualize your site's interval data within an interactive charting tool, similar to the ETB Analytics interface within the ETB Developer platform. Dynamically view your site's interval data streams over any time horizon, including site demand, solar PV generation, ESS dispatch, and state of charge (SOC). Our ESS analytics charts also summarize where ESS charges and discharges to, and ESS equivalent round-trip cycles.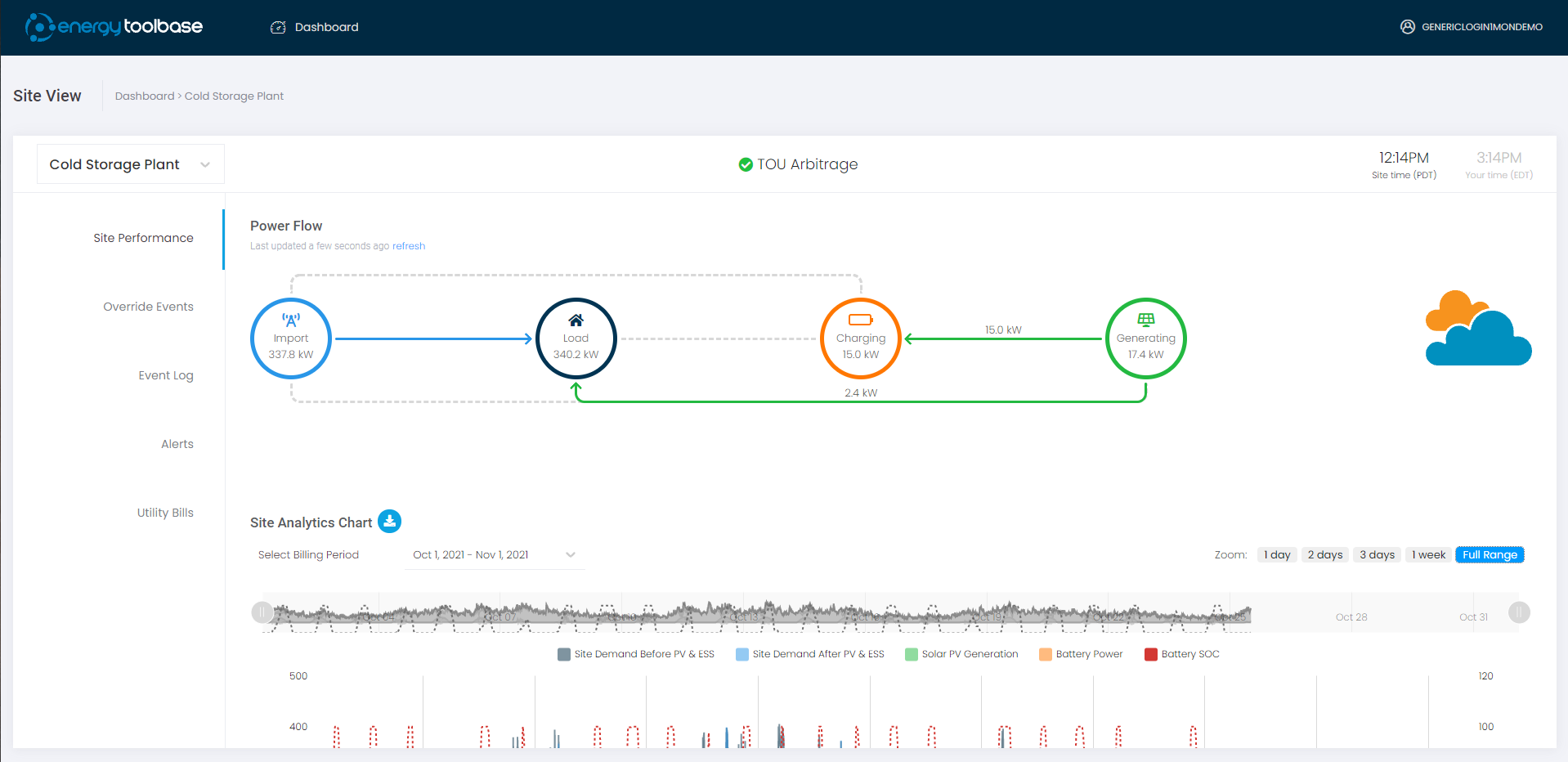 Alerts and Notifications
Configure your customized list of alerts and notification within the ETB Monitor application. Specify who receives notification via SMS or email when defined alerts occur on your site(s).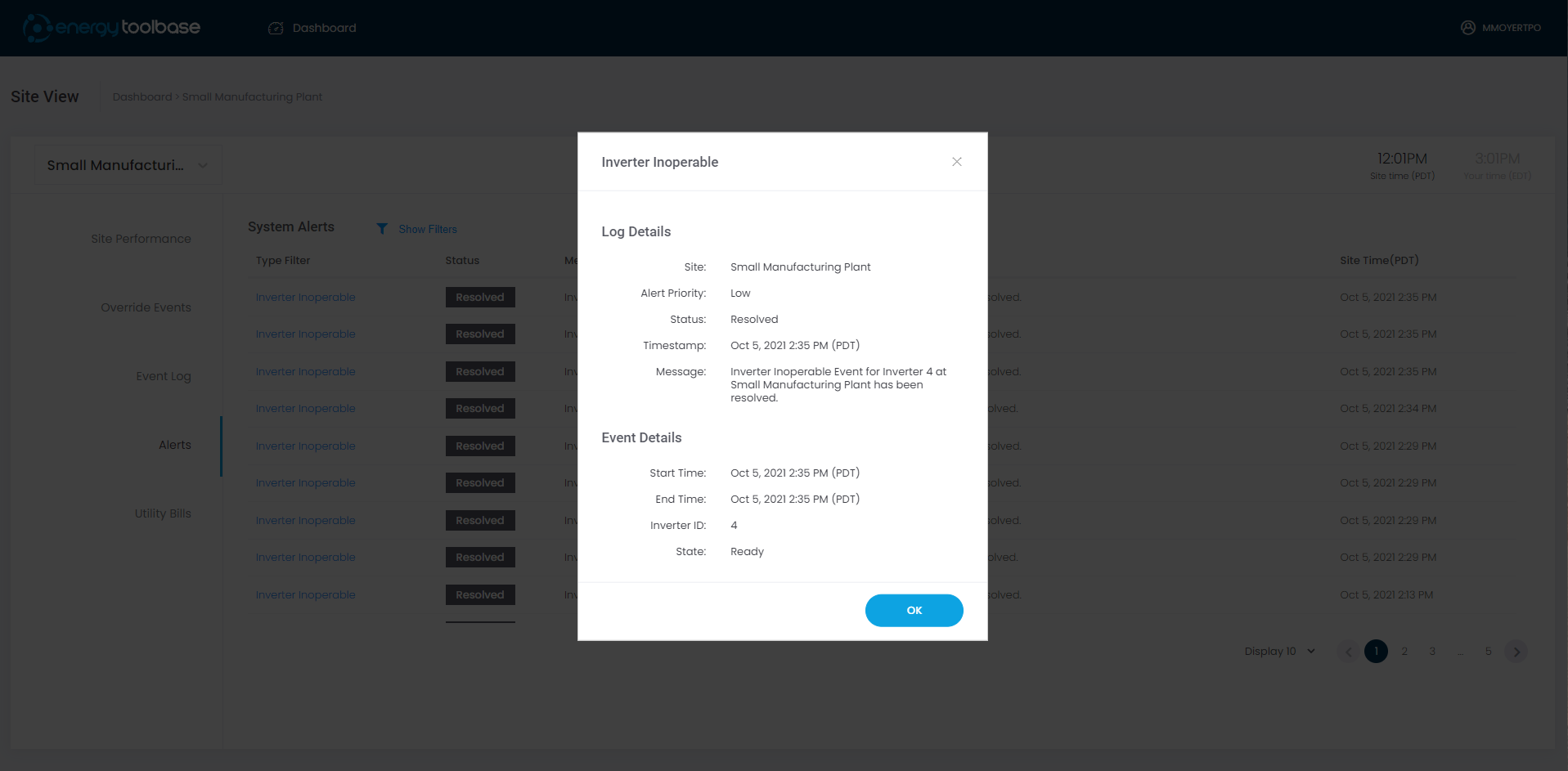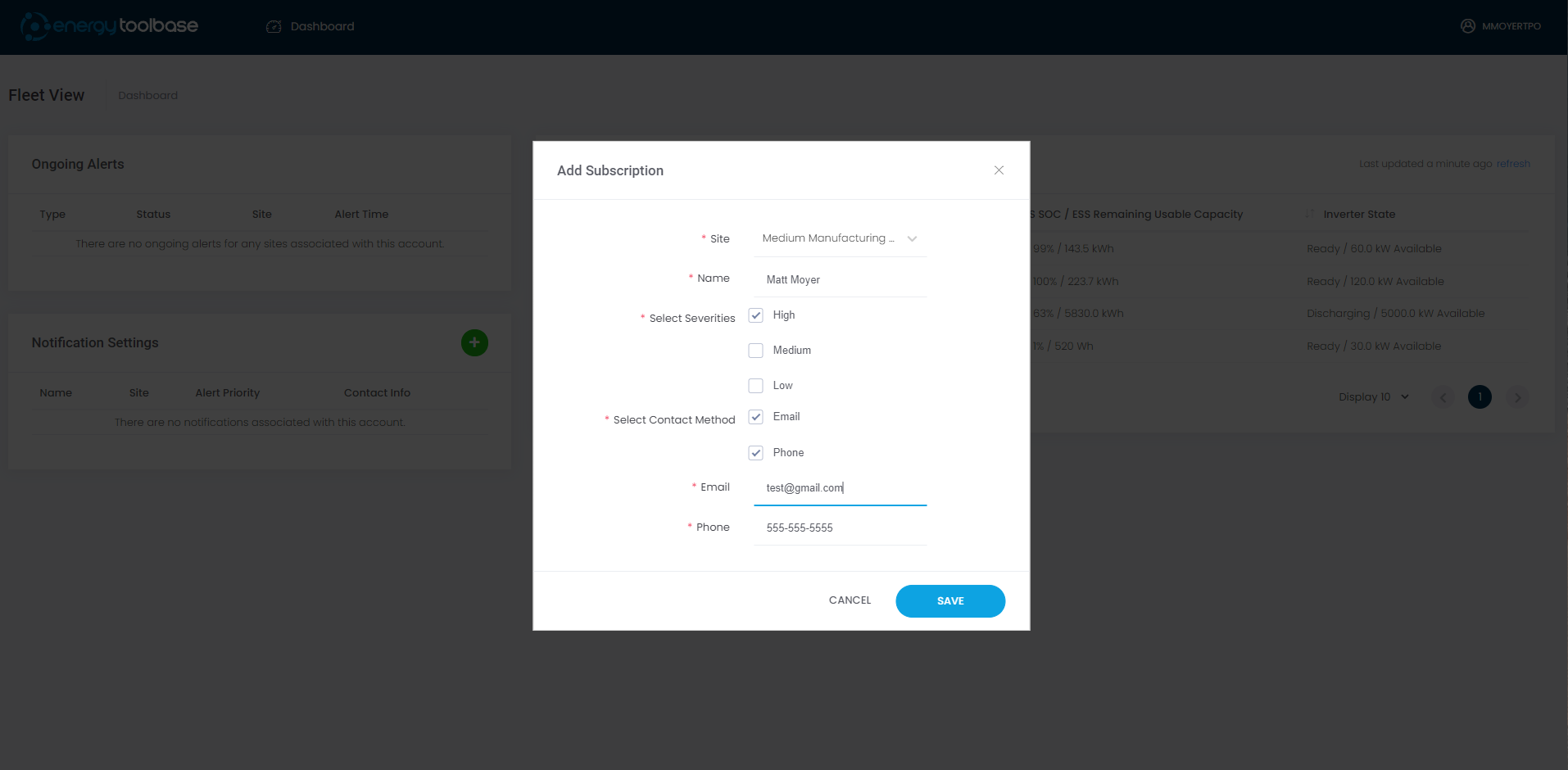 Utility Bill Details
Get a detailed breakdown of your site's utility bills. ETB Monitor uses the same rate schedules and bill calculation algorithms as ETB Developer. This means that bill savings shown for a live Acumen EMS site will match the bill savings from a proposal using the same interval data.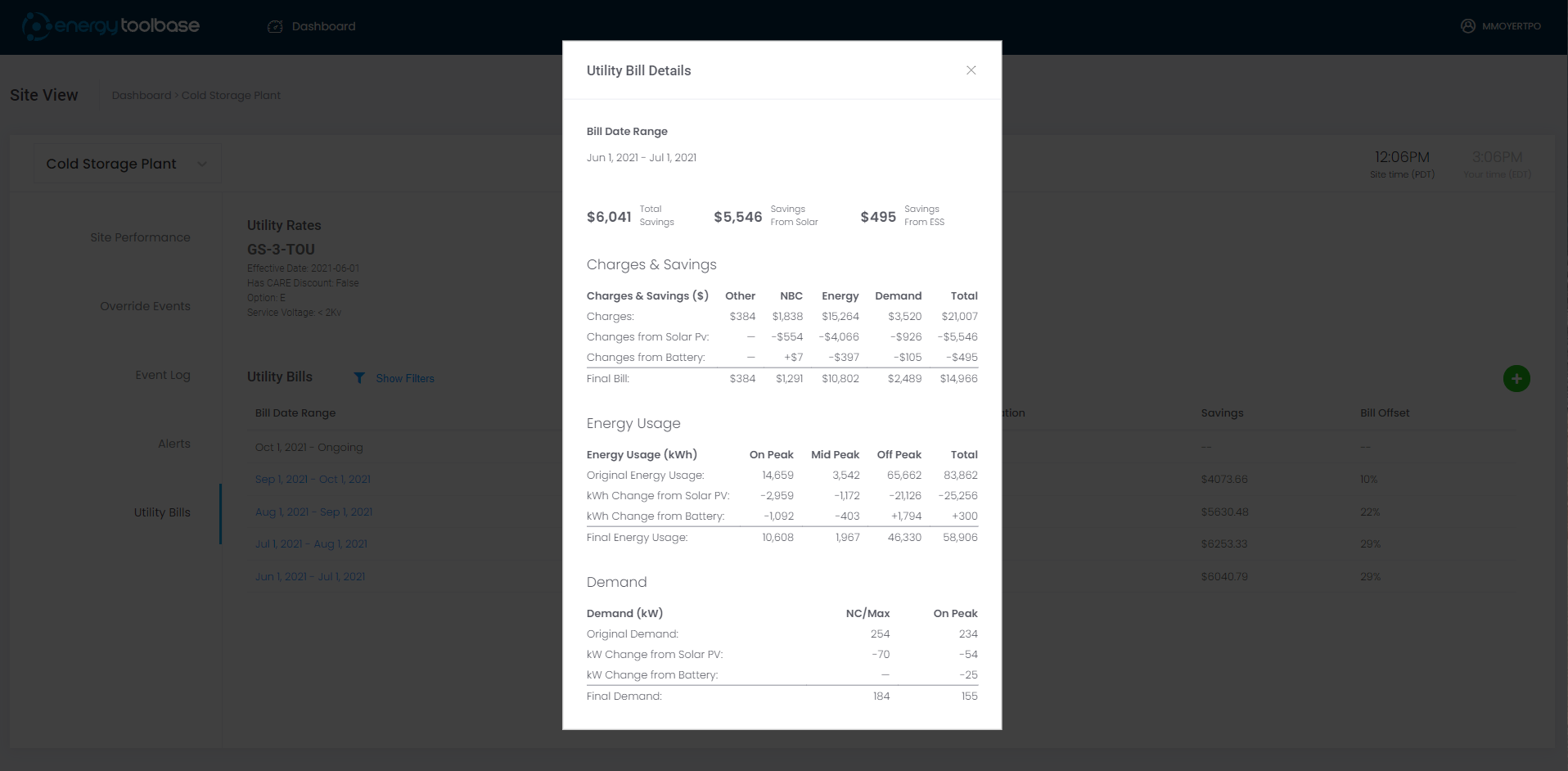 Manual Dispatch Overrides and Demand Response Programs
Our manual dispatch feature enables permissioned users to schedule override events manually to control their storage assets. These dispatch commands will override the programmed operation of the system. For example, a site that normally operates in Demand Charge Management mode can be sent a manual override command to charge or discharge during a specific time window. Additionally, if a site is enrolled in a demand response program, a user can pre-emptively send a charge command to fill the battery, then schedule a command to discharge its full capacity over the course of the defined time window (e.g., 4 hours). Manual overrides can be set to start immediately or scheduled for future days and times, can be charge or discharge commands at specific power rates, and be set to stop at either a specific time or at a user-defined state of charge.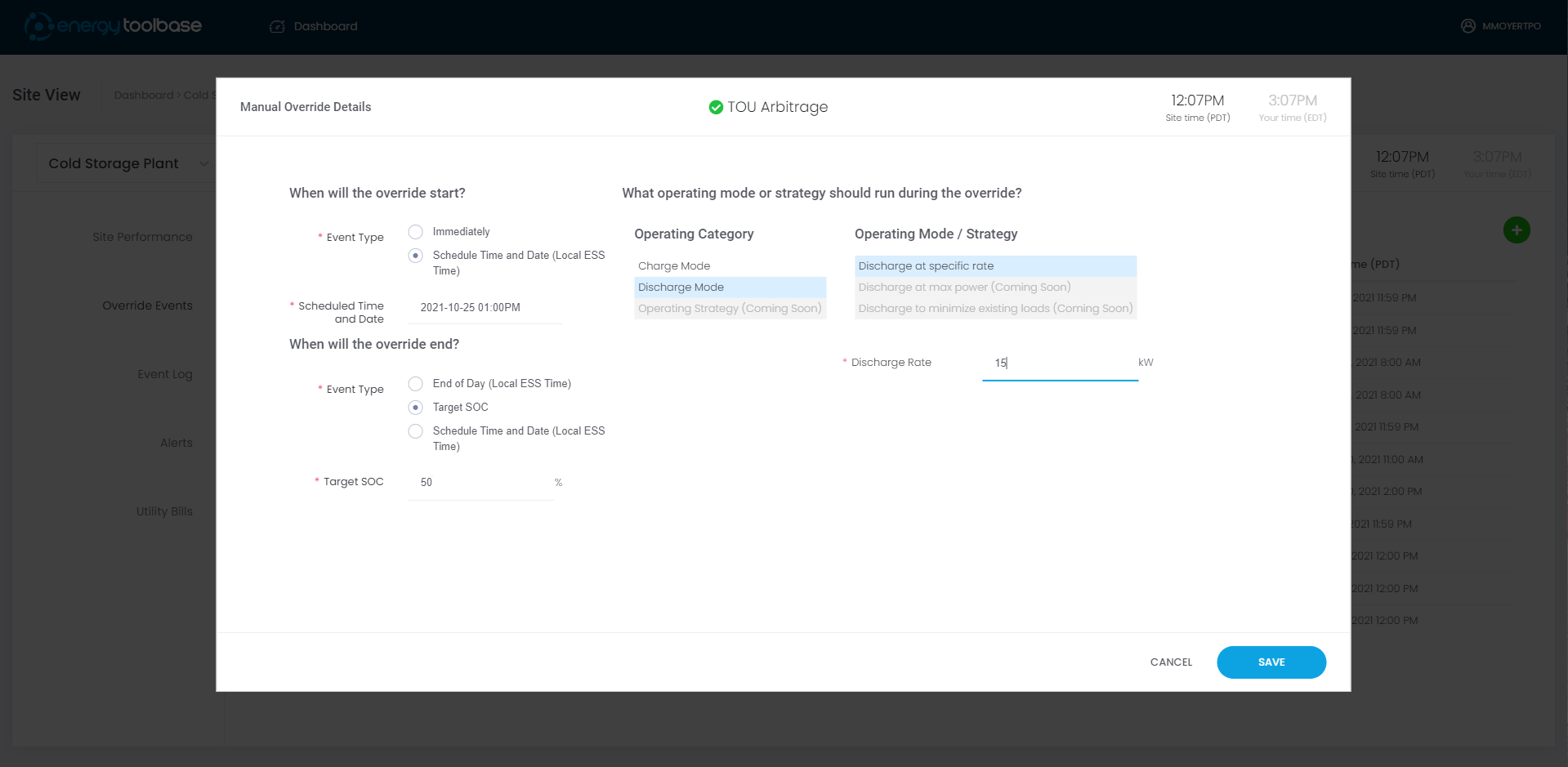 Fleet View
Enables developers and/or asset owners with multiple Acumen EMS deployments to view all of their sites via a single user interface. Our fleet view summary UI displays current system status, remaining ESS capacity, inverter state, and any ongoing alerts for each site.

Discover and learn more about ETB Monitor:
Watch our 3-minute ETB Monitor demo video below:



Schedule a call with an Account Manager to see a private demo of ETB Monitor and discuss your specific application