SCE's "Final Decision" Rates, Part 1: Residential Rate Changes
by Tracy Fosterling, Erin Christensen on Jan 16, 2019
Southern California Edison (SCE) is in the process of rolling out new rates for its residential, commercial and agriculture customers. These new rates will have a significant impact on the economics of solar and energy storage projects, driven largely by the fact that the "on-peak" time-of-use (TOU) periods are shifting much later in the evening to 4 to 9 pm. Understanding the basic characteristics of these rates and where the most significant changes will be felt is important to accurately calculate and present savings analysis to end customers.
Regarding timing, SCE's "final decision" rates will become voluntary for residential customers starting in March of 2019, and then all residential customers will default onto the new rates in October of 2020.


*Note: each section subtitle is a hyperlink leading you to that topic in our recent 'SCE 2019 Final Decision Rates' Webinar
Currently the summer weekday on-peak is from 12-6 pm, which is shifting to 4-9 pm on the "final decision" rates.
Weekdays all remaining hours will considered off-peak.
Weekends in the summer will have a 4-9 pm mid-peak period.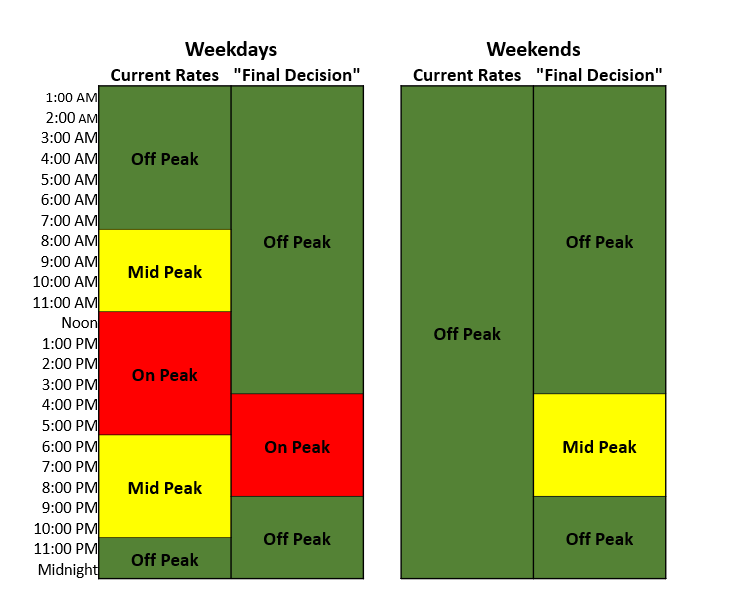 The biggest change is the incorporation of a super off-peak period ranging from 8 am - 4 pm, which will apply on both weekdays and weekends in the winter.
The mid-peak period will now run from 4-9 pm, both weekdays and weekends in the winter.
The value of solar production will get eroded as a result of these changes, as most production will now get valued in the 'super off-peak' time period, which has the lowest $/kWh energy charges and solar generation credits.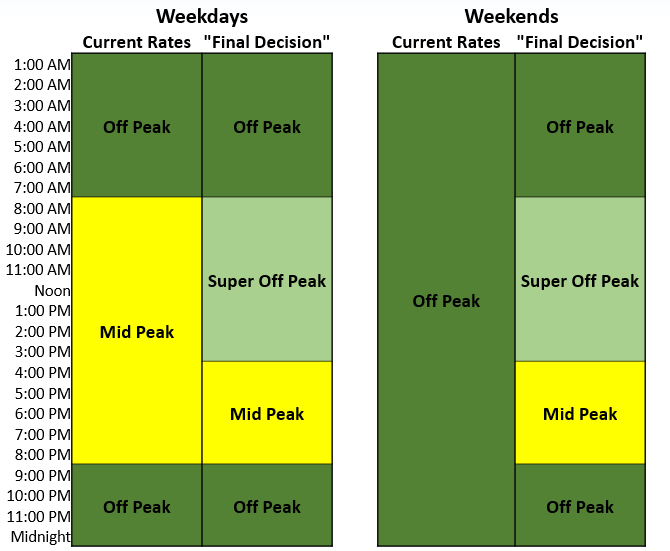 Residential customers who qualify for grandfathering include:
NEM-1 customers who choose to be on a time-of-use rate before the new TOU periods are implemented

NEM-2 customers would have to install prior to Q4 2020 to continue to remain under the legacy TOU periods

Customers can receive grandfathering protection for 5 years from the date of the initial permission to operate was issued, but not past July 31, 2022
It's estimated that starting in October of 2020, non-grandfathered residential customers will be transitioned to either TOU-D 4-9pm or the TOU-D 5-8pm rate
It's important to note that grandfathering protection only applies to the TOU periods. Customers will still be subjected to any changes in charges of the rate structure.
Rates that will be closed to new customers upon implementation include:


TOU-D-A
TOU-D-T
TOU-D-B
TOU-EV-1

Grandfathered customers are eligible to remain on these rates until their grandfathering period ends. Customers who are not grandfathered will be transitioned to another time-of-use rate beginning Q4 of 2020. The "Final Decision" version of these rates within Energy Toolbase reflects the new charges that will be implemented in March along with the currently effective time-of-use periods. TOU-D-A and TOU-D-B have an on-peak period of 2-8 pm Monday through Friday for both winter and summer. For TOU-D-T, the on-peak period is weekdays noon to 6 pm for both seasons. Lastly, for TOU-EV-1, the on-peak period is noon to 9 pm every day all year long.
The currently effective TOU-D rates with the option of having a 4-9 pm or 5-8 pm peak will still be in effect and available to new customers. The structure of these rates is not changing, but the difference between on and off-peak charges is pretty significant (much greater than the residential rates of PG&E and SDG&E).
In addition to these rates, SCE will be offering an optional rate called TOU-D PRIME. This residential rate is intended for customers with high usage or customers that have electric vehicles, behind-the-meter storage systems, electric heat pump systems, or space heating. The availability of this rate will be concurrent with the closing of rate schedules TOU-D-A, TOU-D-T, TOU-D-B, TOU-EV-1, which again is estimated to take place sometime this March.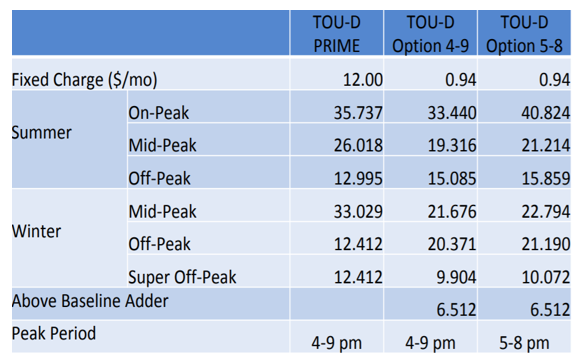 We've included a comparison of how TOU-D Option 4-9 pm (effective January 1st 2019) looks in Energy Toolbase compared to the Final Decision rate (on the right) that will go into effect in March. With a tiered baseline credit and time-related charges, this rate schedule showcases one of the many complex tier structures our platform can model.



A reason why SCE might have updated this rate this month was to get the rates closer to what they'll become in March. There isn't too much variance among the charges. The rates shown below are for customers in region 14 receiving basic service. The baseline amounts are scheduled to change come March so depending on region, service type, and season customers will either see an increase or decrease in the amount of kWh's eligible for the baseline credit.


These rate changes are happening, and they're happening soon. These new "final decision" rates are the most significant changes to SCE rates in the last decade, and they'll have a significant impact on the economics of solar and storage projects. Generally speaking, the value of solar will get eroded as a result of later evening on-peak periods.
Now that these rates are on the brink of implementation, it's important for solar salespeople to be modeling projects with these new "final decision" rates, and communicating these changes to customers. You can start modeling projects with SCE's "final decision" rates in Energy Toolbase by starting a 14-day free trial. Check out our full webinar on SCE's 2019 Final Decision Rates: