Our Inaugural (Monthly) ETB Utility Rates Newsletter
by Erin Christensen, Jorie Rottman on Jan 12, 2021
We're excited to announce the launch of our ETB Utility Rates Newsletter. Our team plans to publish this once monthly throughout 2021 and it will include all things utility rates, including significant rate changes we're seeing utilities implement, statistics on our ever-expanding rates database, rates FAQ's from our userbase, and other interesting utility rate related nuggets. Our utility rates & data team is on the front lines, interacting with developers, and researching utility tariffs changes, so we'll be using this as an outlet to share knowledge of our entire userbase. Here's what you missed in our first January 2021 edition: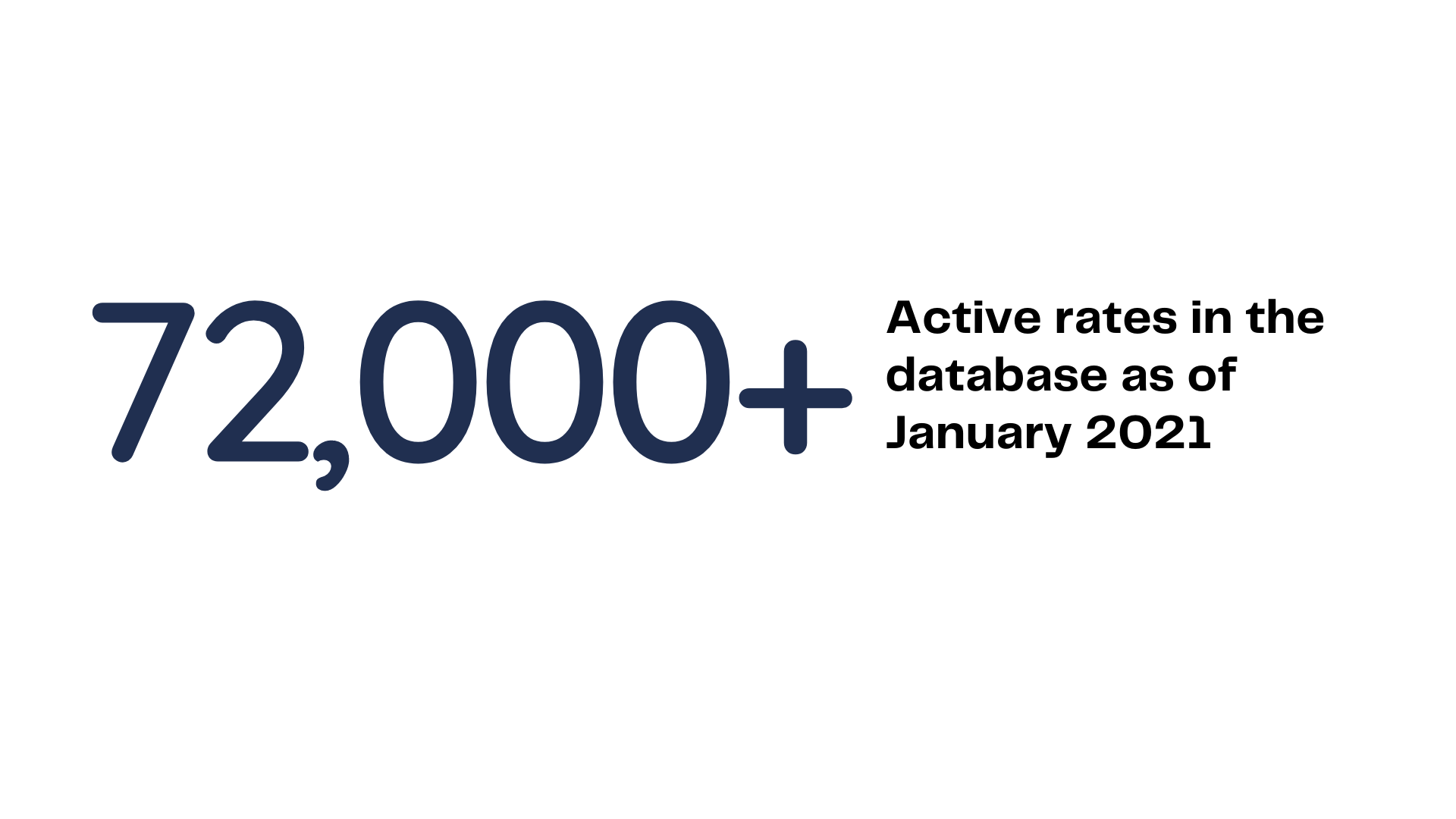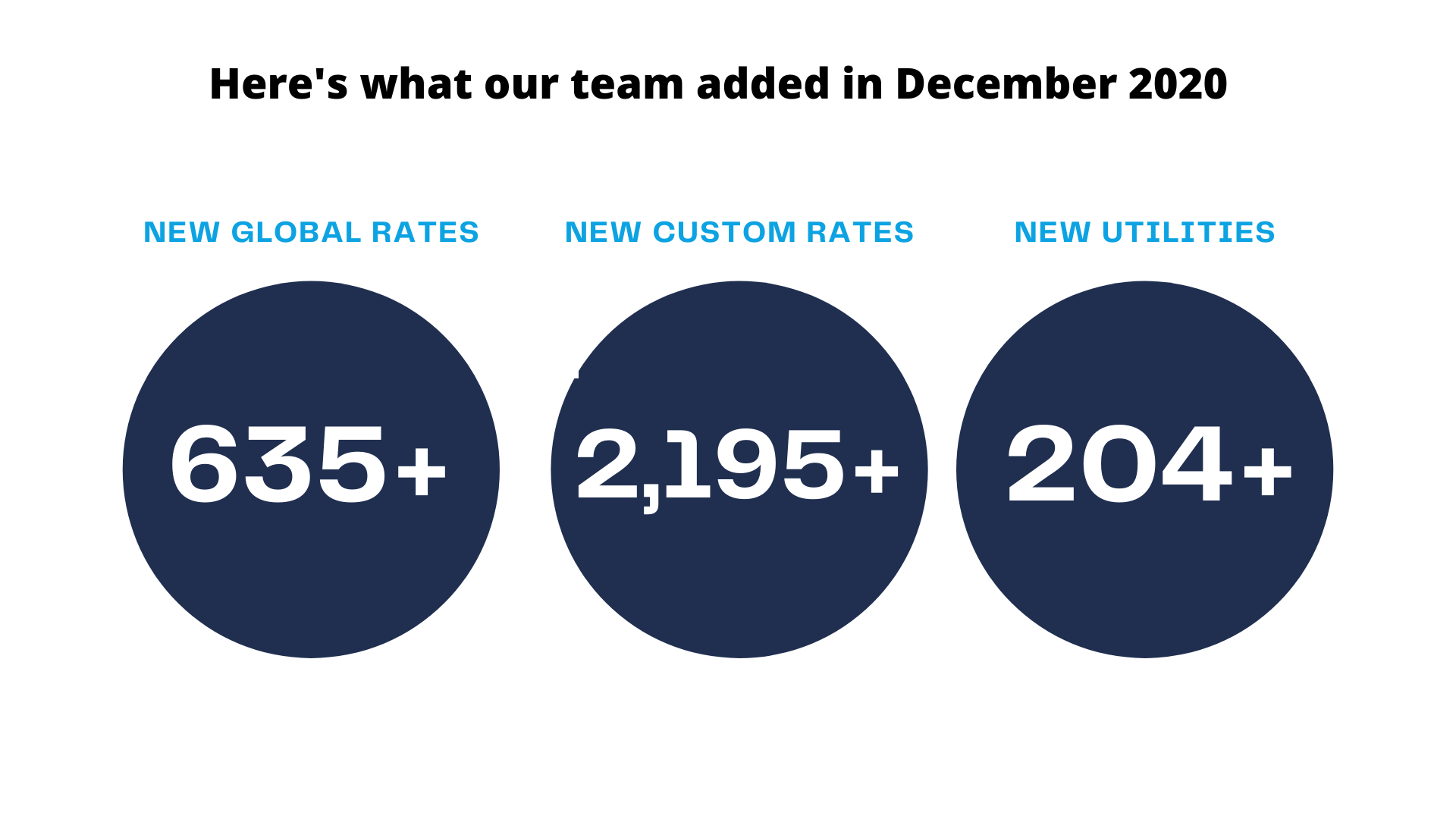 Important Monthly Updates
PG&E Rates Elimination
Effective October 1st, 2020 Pacific Gas and Electric fully eliminated rates E-TOU, and Option A, a voluntary schedule that combined a baseline credit and 3-8 pm TOU periods. Existing customers will be transferred to either a flat E-1 option or one of the most recently added TOU rates – E-TOU-C with 4-9 pm TOU periods every day. PG&E no longer includes E-TOU-A on their webpage that illustrates comparisons of the residential TOU plans to leave E-TOU-C and E-TOU-D as the only available for switching options. What does it mean for our users? If your customer's bills prior to Oct 20 show E-TOU-A as their rate schedule, be advised that bills issued after Oct' 20 will be either under E-1 or E-TOU-C meaning you will be selecting those as your rate schedule in the Energy Use Profile.
SCE Transition to new TOU rates
Southern California Edison also started migrating its customers from the legacy TOU-D A, A-CPP, B, and B-CPP rates. Unless you reached out to SCE and expressed your desire to remain on the 2-8 pm option, customers are moved to 4-9 or 5-8 pm plans. This doesn't affect any grandfathered customers with installed BMT generating facilities since those are eligible to remain on the legacy plan for 5 years from the original permission to operate date but not beyond July 31, 2022.
California Community Choice Aggregation (CCA) Updates
This past month we added our first CCA in the San Diego area – Solana Energy Alliance! We're working on adding corresponding with SDG&E rates to offer our customers a comparison of costs between the bundled service and SEA. We also added our 7th SCE CCA - Pico Rivera Innovative Municipal Energy. Similar to SEA we'll begin working on increasing the number of available rates we offer for rate switches.
A PG&E CCAs also didn't remain unnoticed this past month: Monterey Bay Community Power got renamed to Central Coast Community Energy as it expands to SLO and Santa Barbara counties. If you're working on a proposal for a customer in those territories, you will select CCCE as your utility in Energy Toolbase.
Webinar: Ready or Not, Here They Come: PG&E's New B Rates Become Mandatory
Thursday, February 18, 2021
11 AM PST/2 PM EST
WEBINAR OVERVIEW: PG&E's B rates will become mandatory for all commercial customers in its service territory in March. So, what does this mean for existing and new PG&E customers? Our utility rates team will take a deep dive into the new B rates, explain the changes you'll see when modeling your customers' C&I projects (daily demand charge rate, max demand charges, energy charges, etc.), and the grandfathering protection rules. We'll also be diving into several C&I case studies. Registerhere.
Meet some of our Utility Rates Team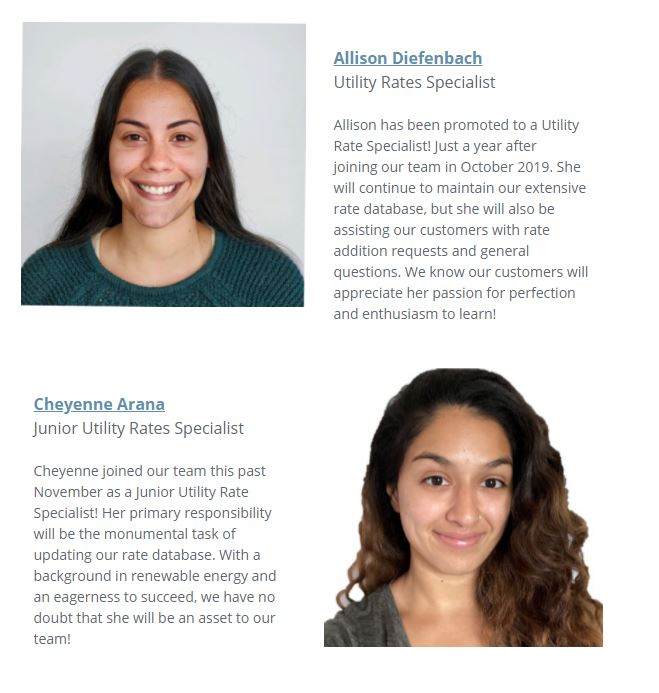 How has COVID-19 impacted utilities and rates across the globe?
Utilities across the globe have been doing their part in easing the financial burden caused by the COVID-19 pandemic. In California, the Stay at Home Order that went into effect prompted the three main IOUs (PG&E, SCE, and SDG&E) to discount their high usage (over 400% of baseline) energy charges by over 25%. In Canada, the Ontario Energy Board (OEB) provided relief to time-of-use (TOU) customers by charging a flat per kWh rate for all electricity consumed, no matter the time.
There have been many utilities that have postponed scheduled rate increases, implemented energy credits, waived late fees, and delayed shutoffs as a result of the financial hardship many consumers faced in 2020. It is important to note that due to the temporary nature of these changes, to the best of our ability they will not be reflected within the rates in Energy Toolbase.
To get our monthly utility rates newsletter straight to your inbox, head to ourblog, and enter your email in the newsletter section. For rate requests or general questions for our rate team, please email: utilityraterequest@energytoolbase.com