Florida's Solar and Energy Storage Market – What You Need to Know Going into 2023
by Erin Christensen on Nov 09, 2022
In this ETB state market summary, we overview the Florida solar + storage market, summarize key policies and programs, and share interesting data trends we are seeing, sourced from both ETB Developer and 3rd parties.
The Sunshine State has officially established itself as a top state in the country for solar deployments. In 2021, Florida ranked third in the country for PV deployments behind behemoths California and Texas. Through Q2 of 2022, Florida cumulatively installed 9,539 megawatts (MW) of solar, according to the Solar Energy Industries Association (SEIA). Of that cumulative capacity, nearly 60% was installed during the last three years, which has ranked Florida in the top three states for three consecutive years. To date, a majority of Florida's solar capacity has been in a front-of-the-meter (FTM) utility-scale setting, as illustrated in the chart below. Driving growth in this segment has been the Solar Base Rate Adjustment program, where utilities can deploy solar plants with limited regulatory approval for projects under 75 MW if they meet a cost cap requirement. Utilities can develop and own environmentally friendly PV projects that are cost-competitive with natural gas plants, which currently still power over 2/3rds of the state's energy generation mix, according to the Energy Information Administration (EIA).
The state's rooftop solar market has also experienced considerable growth over the last few years. In 2021 alone, over 40,000 rooftop systems were installed, yielding a 41% year-over-year increase in capacity. Substantial future growth remains. The EIA reports that less than 5% of Florida's electricity is currently sourced from solar, and approximately only 1% of utility customers have installed solar. ETB's outlook for Florida's future rooftop solar market is strong, driven by increasing electric utility bills and fuel costs, increasing demand for solar + storage to provide resiliency in the event of grid outages caused by hurricanes, and a workable policy environment.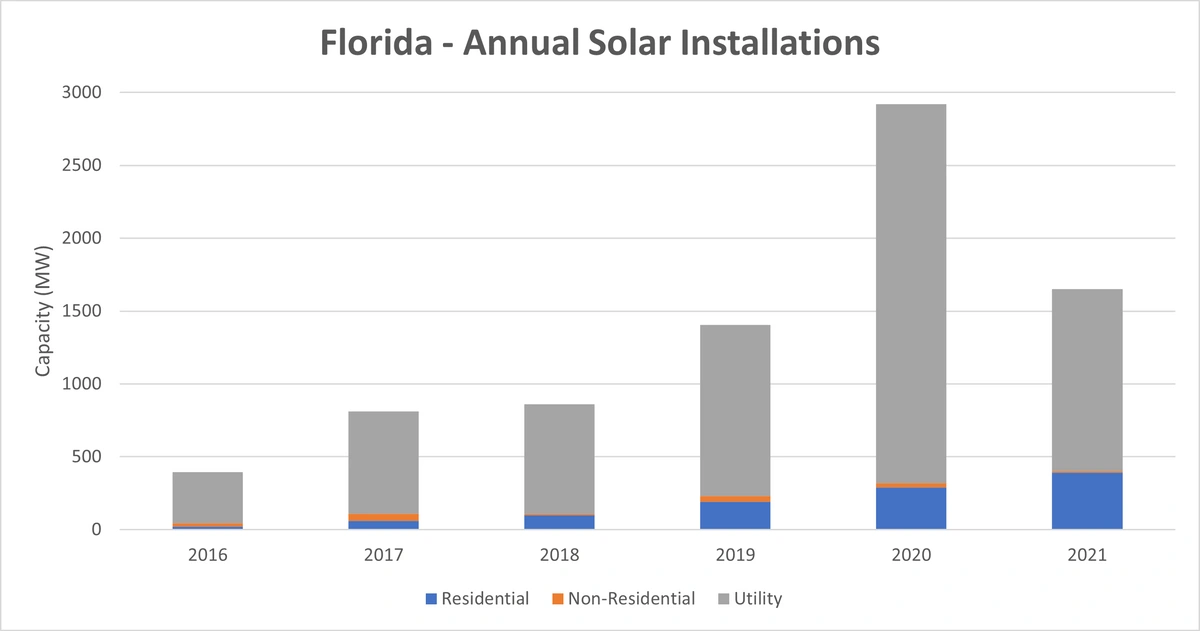 Electric Utility Companies
Florida has five investor-owned utilities (IOUs): Florida Power & Light (FPL), Duke Energy Florida, Tampa Electric Company, Gulf Power Company, and Florida Public Utilities Company. Florida also has over fifty municipal and cooperative electric utilities. The Florida Public Service Commission (PSC) regulates the IOUs, while the Municipal and co-ops are typically governed by elected city or utility officials. The map below shows the approximate IOU service territory areas.
EIA data from 2022 indicates that roughly 80% of electric ratepayers in Florida are located in IOU service territories. This heavy IOU territory concentration aligns with Florida proposal generation volume on the ETB Developer platform. When anonymously looking at all-time, solar + storage proposal generation activity on our platform, over 75% occurs in IOU territories, as shown in the pie chart below.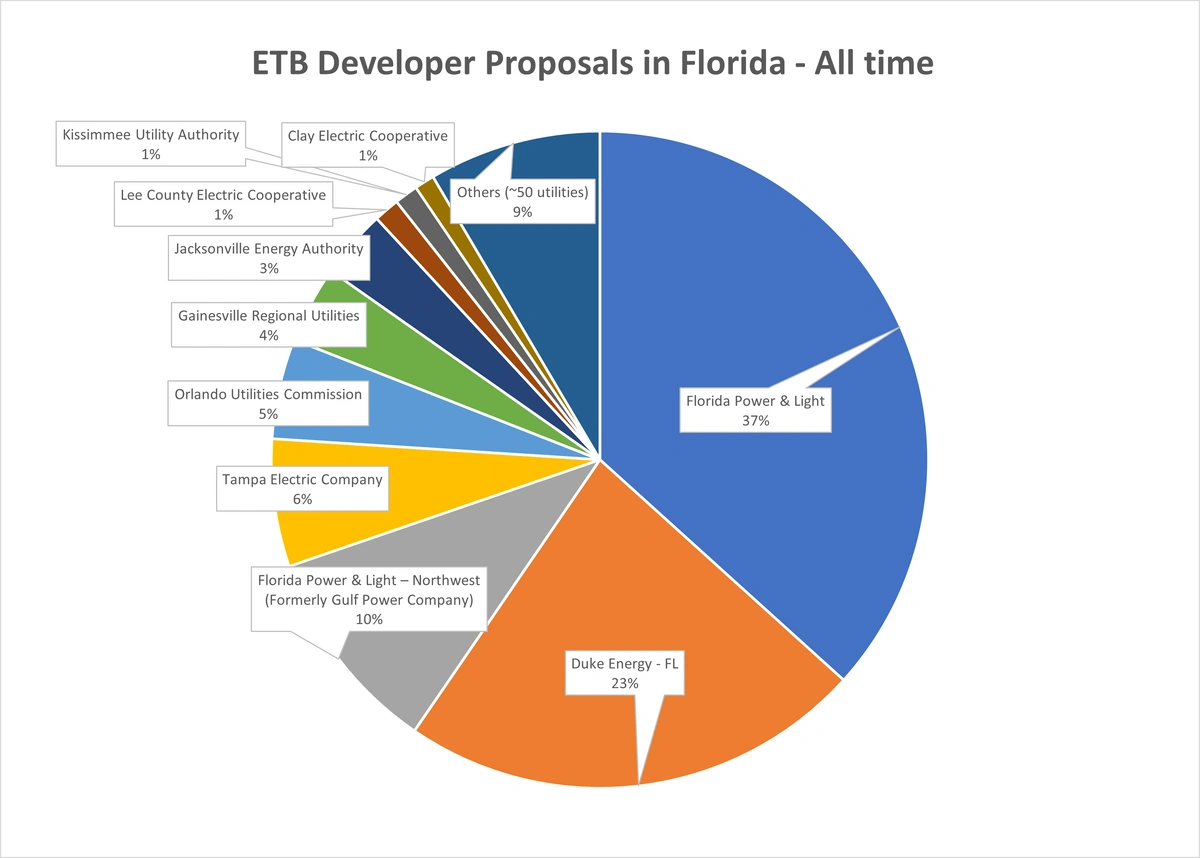 Utility Bill Costs and Escalation Rates
The average retail cost of electricity in the state of Florida is slightly below the national average. According to theU.S. Energy Information Administration (EIA), as of August 2022, the average retail price of electricity in Florida is 12.8 cents per kilowatt-hour (kWh), which is below the national average of 13.6¢/kWh. EIA data shows the Florida residential average at 14.1¢/kWh and a commercial average of 11.25¢/kWh.
Rates in Florida sharply escalated recently. In January 2022, Florida Power & Light implemented one of its most significant rate increases to date, which was tied to the utility's four-year $1.5 billion rate escalation plan that the PSC approved in October 2021. Utilizing rates from our ETB Developer platform, the table below compares annual bill totals for FPL's and Duke Energy's default Residential and Small/Medium commercial rates. With the rate changes implemented earlier this year, FPL customers will see an annual utility cost increase of roughly 22-26%, while customers of Duke Energy will undergo a 13-17% cost increase.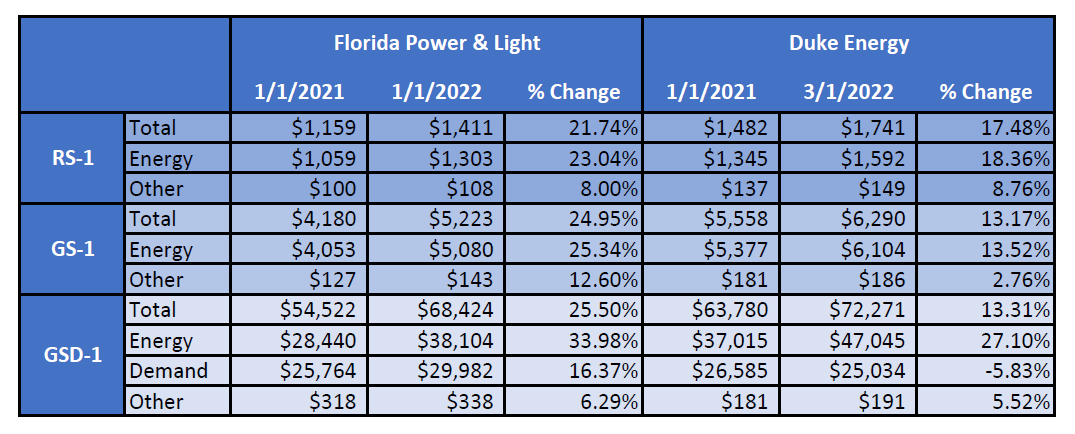 Duke Energy released a statement in September notifying customers of a significant upcoming rate increase in January 2023. The utility stated that a typical residential customer could expect their bill to increase by roughly 13%. Duke expressed that the planned rate increase was due to both rising fuel costs and an under-collection of fuel costs in 2022. Additionally, major hurricane events can have an inflationary impact on rates, as winds and flooding can cause substantial damage to grid infrastructure. It is not uncommon for a utility to utilize a "rider", a volumetric energy or demand charge used to recover the costs associated with a specific event.
Solar & Storage: Pricing Data
The average cost to install a solar PV system in Florida is considerably lower than the national average install price. When anonymously reviewing all residential solar proposals (defined as < 30 kW) modeled on ETB Developer in 2022, the median all-in cost was $2.95/watt DC, which compares to a national average of $3.45/watt. The median for non-residential systems (defined as > 30 kW) in Florida was $2.35/watt, which compares to a national average of $2.63/watt. A similar trend exists for energy storage systems (ESS) proposed using ETB Developer. The Florida residential median was $1,120/kWh in 2022, compared to a $1,325/kWh national median price. The non-residential median was $970/kWh, compared to a national median of $1,032/kWh.
EnergySage, an online marketplace where homeowners can receive quotes for a solar installation, tracks and publishes quoted solar pricing data. In their2022 Intel Report, they reported the statewide average price in Florida was $2.45/watt for the first half of 2022, which compares to a nationwide average install price of $2.77/watt over the same period. For storage, EnergySage reported a $1,206/kWh ESS install price in 1H of 2022, which compares to a national average of $1,290/kWh.
Net Energy Metering (NEM)
Net Energy Metering (NEM) was made available in Florida in 2008. All customers in Florida's IOU territories are eligible for NEM, which generally compensates for exported energy at the full retail rate with some slight variances depending on the utility. Additionally, municipal and electric cooperative utilities are required by law to provide NEM, however, project developers are encouraged to check with their local utility because program specifics can vary. In Florida, the customer's net excess generation, or any amount remaining after offsetting utility usage, is carried forward for 12 months. If a credit remains at the end of the true-up period, the customer is compensated at the utility's avoided cost rate, which typically falls between 2-4¢/kWh in Florida.
There have been several attempts to erode Florida's NEM policies in recent years. Most notably, in 2022, the state Legislature passed House Bill 741 (HB-741), an anti-solar bill that sought to aggressively phase down the value of net metering credits. The bill would have reduced NEM credits from their current retail rate to the "avoided cost" rate mentioned above. Furthermore, the bill sought to levy discriminatory fixed charges to grid-connected solar customers. The rooftop solar industry fought the bill and ultimately won the battle when Governor DeSantis vetoed the bill, whichwe detailed in a blog in April.
Future changes to NEM tariffs in Florida are expected. Florida policy observers have indicated a high likelihood that a more watered-down NEM bill will be introduced in Florida's 2023 legislative session. This follows a general trend around the country of NEM changes, especially in higher penetration states, which we detailed in a broader blog: Solar NEM tariffs are under threat nationwide. NEM changes generally erode the value of solar while creating a strong price signal to add energy storage.
Other Renewable Energy Programs & Incentives
We summarize and recap other noteworthy renewable energy programs and incentives available to customers in Florida, both good and bad.
The Good
Solar Energy System Sales and Use Tax Exemption

excludes all solar system components from the assessment of sales and use tax. Battery units are included as applicable equipment under this exemption.

Property Tax Abatement for Renewable Energy Property

provides a 100% property tax exemption for residential renewable energy property and an 80% property tax abatement for non-residential renewable energy property, including energy storage systems (ESS). This incentive is set to expire on December 31, 2027.

Investment Tax Credit (ITC) and the recently enacted Inflation Reduction Act (IRA) extended solar tax credits at the full 30% level for a period of 10 years and established a standalone storage tax credit. Our team previously summarized

the key ITC provisions of the Inflation Reduction Act

and hosted a webinar to look at

the impact the IRA will have on solar and storage project economics

.
Utility-specific incentive programs.

Jacksonville Energy Authority (JEA) has a

Battery Incentive Program

rebate available to customers that install an ESS paired with solar, offering a $4,000 incentive to residential and commercial customers that purchase a battery with a capacity rating of at least 6 kWh. Availability is limited, as the incentive allotment for the Fiscal Year 2022 became fully subscribed months in advance. JEA's website will be updated in November with program details regarding 2023 incentives. Project developers should check with local utility providers to determine if any renewable energy incentives are available in their service area.
The Bad
Renewable Portfolio Standard (RPS) – Florida is one of a small handful of states that does not have an RPS, a policy mandating that a certain percentage of electric generation comes from renewable energy sources. RPS standards have been credited with accelerating solar adoption in many states. Currently, only about 5% of Florida's electricity is produced by renewable sources such as solar. Earlier this year, Florida Commissioner of Agriculture and Consumer Services Nikki Fried proposed an aggressive statewide renewable energy goal of 100% by 2050 with interim goals to help keep utilities on track. While Fried's proposal was approved in August of 2022, it still needs to be codified and enforced by the Florida PSC by creating regulatory consequences for non-adherence.
Power Purchase Agreements (PPAs)

– Florida currently prohibits PPAs, which enable third-party financing entities to finance and own a solar PV system and sell the energy to home or business owners. PPAs allow customers to 'go solar' for low or no money down and are a driving force for solar adoption in many state markets. Several bills have been proposed to undo the PPA exemption, including SB 1718 and HB 1611 filed in 2021, which contained language that would legalize solar PPAs for schools, municipalities, and nonprofits. Yet

,

all legislation to date has quickly died in various Senate and House committees.
Florida's Outlook in 2023 and Beyond
The outlook for the Florida solar market is bright. According to SEIA, Florida's current 9,539 MW of solar capacity is expected to double over the next five years, ranking the state fourth in the nation for projected growth. Florida's upward trajectory is expected to come from continued growth in both FTM and BTM deployments. There is a confluence of factors driving the growth of distributed energy resources BTM in Florida.
Recent steep utility rate price increases have motivated Floridians to deploy solar to reduce their electric bills. The ETB team calculated that Duke Energy and FPL increased rates between 13% to 25% from 2021 to 2022, depending on the specific rate tariff. Both utilities have planned additional rate increases in 2023. Another strong motivator is the increased awareness of the resiliency solar + storage can offer homeowners and businesses during hurricane season, where multi-day power outages are common. It was reported that Hurricane Ian, in October of 2022, left 2.5 million utility customers without power.
Florida homeowners and business owners are the beneficiaries of competitive solar and storage installation pricing, which is lower than the national average; this improves their project economics. On the policy side, we are cautiously optimistic that Florida will continue to provide a supportive environment for DERs. It was national news earlier this year when Governor DeSantis vetoed HB-741, which sought to aggressively erode Florida's Net Metering policy. A path to implementing and enforcing an aggressive RPS is now plausible after a proposal was approved in August this year. Lastly, the once-in-a-decade market tailwind from the passage of the IRA and solar and storage tax credit certainty for the next ten years will undoubtedly contribute to the continued growth and expansion of Florida's solar and energy storage market.