December 2022 Utility Rates Newsletter
by Sarah Wood on Dec 30, 2022
IMPORTANT MONTHLY UPDATES & ANNOUNCEMENTS
Welcome to our last newsletter of the year! In this newsletter, we'll look at Duke Energy Indiana's transition from net metering to distributed generation, introduce a new feature for tracking Real-Time Pricing exports within a rate in ETB, explain how to find supply charges in a rate and go over the change in verbiage we'll use moving forward, and conclude with a review of everything rate-related that happened this year.
Duke Energy - IN NEM to DG
Duke Energy is one of five investor-owned utilities (IOU) in Indiana that transitioned to a new excess distributed generation tariff to replace the former net metering tariff. Customers who applied for interconnection before June 30, 2022, are eligible for the former Net Metering tariff, while customers who applied for interconnection on or after July 1, 2022, will take service under the new Excess Distributed Generation tariff.

The primary difference between the Net Metering and the new Excess Distributed Generation tariffs is the compensation rate for exported energy. The Net Metering tariff compensated customers at the full retail rate for exports; however, the new Excess Distributed Generation tariff values exports at the marginal distributed generation price of $0.05216 per kWh. Like Net Metering, Customers still receive credits on their future bills for excess energy produced; however, these credits cannot be converted into any form of monetary compensation.
New ETB Features - RTP Exports
At Energy Toolbase, we're always striving to make our platform more dynamic to handle the never-ending rate structures and charge types that utilities implement. One of the newest features that our Engineers have recently implemented is the ability to track exports with the Real Time Pricing (RTP) Charge Type.

Customers can now set Imports and Exports as a daily or hourly value within a custom rate schedule. This charge type allows ETB to calculate the customer's actual hourly energy data in real time, resulting in greater accuracy for proposals. Previously, users would need to apply an average of these values to level out all the spikes and dips that naturally occur in the market. Customers can now use this charge type to account for export values to calculate the compensation in a Net-Billing scenario more accurately.

Customers can also reference historical or future RTP data by adding the "Inclusive End Date" within the RTP charge type. This new feature will be helpful in modeling estimated future Export Values beyond Year 1 when these values are available.
Eversource Increasing Supply Rates Effective January 1, 2023
Eversource (Connecticut) has plans to increase its Supply Rates beginning January 1, 2023, which means the customers who have their electricity supplied directly from the utility company and not from a third-party supplier will be affected. For Eversource, the supply rate, when compared to the previously effective one from July, will increase by 100.6% resulting in a residential bill impact of approximately $84.85 assuming usage of 700kWh a month.

Commercial customers will not avoid the changes either. Thepublished supply rates have been summarized into a table for convenience: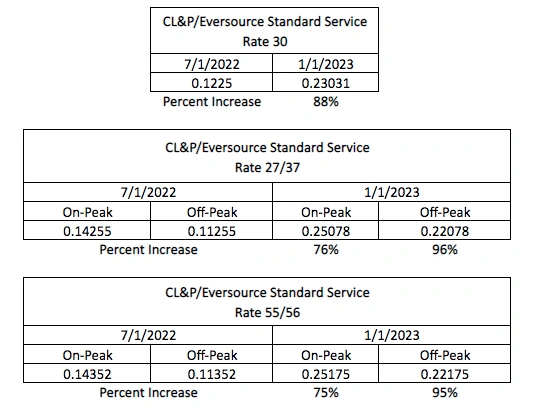 The Customer Count Report, effective August, provides some insight into the percentage of customers buying electricity from Eversource vs. a supplier: 86.4% of customers remain bundled, and the remaining members chose in favor of a custom contract, particularly in the past year, the latter saved a combined $10,432,771.

In Energy Toolbase, global rates will include the Standard Service charges but acknowledging that Connecticut is a deregulated state, we provide the ability to replace the bundled charges with a third-party value via a "Retail Supply Details" function in the Energy Use Profile. If you're developing a project in the Eversource territory, you may find exploring supply options valuable. Connecticut's official state website recommends comparing the charges usingthis source, and thanks to the ETB features, applying the charge to your analysis cannot be simpler.
Utility Rates December 2022 FAQ: How do I know what a utility charges for supply?
In deregulated energy markets, customers can contract the supply portion of their energy service with a retail energy supplier (RES). This "splitting" of the energy service into separate distribution and supply portions can be modeled within a rate in ETB. Historically, this process was referred to as "unbundling" in ETB; however, we have updated this feature to use language that is more easily identifiable. You can click on the "Rate Schedule Details" within a rate to select whether you want to track supply charges separately:

Selecting this option will enable the "Supply" modifier within the energy or demand charge types so that supply charges can be labeled:

2022 Utility Rates Team year in review:
This past year was a big one for the rates team regarding numbers and new features. In the last quarter of the year, we introduced our new "Pre-Proposal Service" and have since fulfilled over 110 individualized Energy Use Profile requests complete with rates, NEM configurations, and energy consumption inputs and validation. This new service allows us to account for every minute detail in the rate and Energy Use Profile creation process, which helps prepare your Proposals for the greatest success. We're excited by the reception of this new service and look forward to telling you more in 2023!

Also, our rates team has worked diligently to expand our globally available rate database in conjunction with the release of the Pre-Proposal Service. We added 772 new global rates, including rates for utilities like ComEd, Ameren, Oncor, and Centerpoint Energy. Speaking of utilities, we added 151 new utilities across ten countries this year. All in all, our global rate database increased to over 87,450 available global rates this year!

Lastly, we created exactly 2,022 custom rates this year—a very fitting number to end this year with! We want to thank you for using ETB, and we look forward to working with you all on even more projects in 2023!